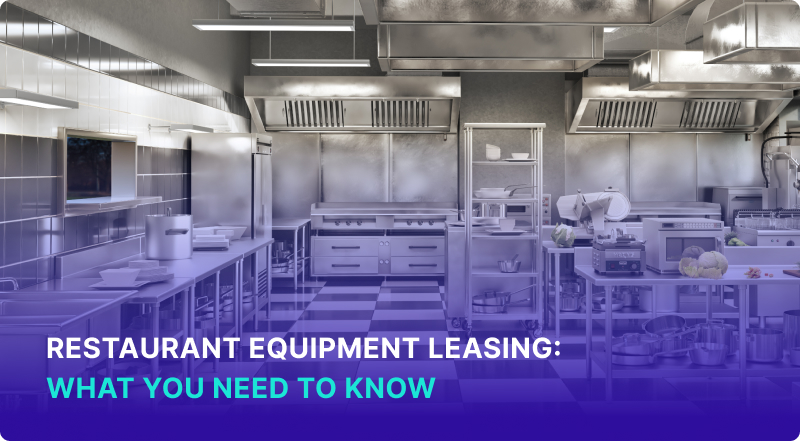 All content presented here and elsewhere is solely intended for informational purposes only. The reader is required to seek professional counsel before beginning any legal or financial endeavor.
Like any business, restaurant owners need equipment. If you don't want to purchase equipment, you consider an equipment lease agreement, which lets you rent equipment from another company for a monthly fee.
Leasing kitchen equipment is typically less expensive than buying equipment, but it might not be the right fit for every restaurant owner. We'll break down what you need to know.
What Is Restaurant Equipment Leasing and How Does it Work?
Restaurant equipment leasing allows you to lease things like ovens, refrigerators, and other kitchen equipment from a leasing company.
Normally, restaurant owners need to buy equipment with money out of their own pocket or by securing a restaurant business loan. However, that can quickly get expensive and often means paying interest. Leasing, on the other hand, has a lower monthly cost. The drawback of leasing is that you'll never own the equipment you're leasing, so you'll always have to pay that monthly bill.
Types of Leases
There are a few different types of leases available.
Finance leases. These leases give you the option to purchase the equipment at the end of the lease. This leaves you with a fixed monthly payment and gives you flexibility when the lease ends.
Capital leases. These are long-term and usually non-cancellable leases. The lessee has the responsibility of maintaining and insuring the equipment and adds the equipment to their balance sheet. They usually have a purchase option when the lease expires.
Operating lease. These leases are usually short-term and cancellable, making them ideal for restaurants that aren't ready to commit to using a piece of equipment for the long term. The lessor retains full ownership of the equipment and may maintain responsibility for maintenance, insurance, and the like.
What's the Difference between Equipment Leasing vs Financing?
Equipment leasing and financing are two very different things and it's essential to understand the difference.
Equipment leasing involves renting equipment from another person or business. You pay a monthly fee for permission to put the equipment in your restaurant and to use it. Depending on the details of the lease contract, you may have the option to purchase the equipment at a future date, but you do not own the equipment during the lease period.
That means that you can't sell the equipment and have to keep making monthly payments to keep using it.
When you get equipment financing, you're borrowing money to purchase equipment. Like with leasing, you have to make a monthly payment, but that payment goes toward paying off your equipment financing loan.
Because you own the piece of equipment, you have the right to use it however you'd like and can even sell it if you want to. Additionally, once you pay off your loan, you don't have to make any more monthly payments to keep using the equipment.
Generally, leases have lower monthly costs than financing, which is why some companies prefer them. However, for equipment you plan to keep for a long time, financing lets you eventually pay off the equipment and get out of monthly payments.
What Kinds of Restaurant Equipment Can Be Leased?
You can lease all sorts of restaurant equipment, including:
Ovens
Stoves
Microwaves
Walk-in refrigerators
Point-of-sale systems
Dishwashers
Stoves
Pizza ovens
Pizza equipment supplies
Ice machines
Drink machines
Frying machines
Grills
Slicers
Coffee equipment
How to Lease Restaurant Equipment
If you're interested in leasing equipment for your restaurant, follow these steps.
Determine your needs. Decide on the equipment that your company needs and put together a list. Knowing what you need will be important for finding a leasing partner and estimating the cost.
Gather your restaurant's financial documents. Lessors will want to make sure that you can afford the monthly payments on any equipment you lease. Gather things like monthly income and expenditures and any documentation that helps prove you can afford the payments.
Make sure you qualify. Leasing isn't getting a loan, but the lessor is still trusting that you'll make monthly payments. You'll want to make sure that your credit isn't in the dumps before looking for leases because bad credit could impact the price.
Look for leasing companies. Many equipment manufacturers offer leasing, so if you want to use only equipment from a single company, look at their leasing options. Also look at other options, such as companies that lease equipment from multiple brands.
Compare options. Look at each leasing company and compare the pros and cons of their lease offers. Don't just look at the monthly price. Also consider things like the length of the lease, who handles maintenance, and whether there is a purchase option at the end of the lease.
Sign the contract. Once you've chosen the best least offer, it's time to put pen to paper and sign the agreement. Get the equipment set up in your restaurant and start making payments.
How Much Does Restaurant Equipment Leasing Cost?
The cost of leasing restaurant equipment can vary based on a few factors.
One of the most obvious factors is the value of the equipment you're leasing. The more expensive the equipment, the more you'll have to pay.
Another is your company's credit and financial situation. Lessors are likely to charge more if you have poor credit or are in a less stable financial position to compensate for the higher risk.
Kitchen equipment can be expensive with it costing between $30,000 and $120,000 to outfit a full kitchen if you plan to buy it all. On the other hand, leasing can be as cheap as $800 - $5,000 per month.
Pros and Cons of Restaurant Equipment Leasing
Leasing equipment for your restaurant can be a great way to keep your monthly costs low, but it isn't a perfect solution for everyone. It's important to consider the pros and cons before you sign the deal.
Pros of Restaurant Equipment Leasing
Lower monthly cost. Leasing is much cheaper on a monthly basis, allowing you to reduce your company's monthly expenses.
Lower upfront cost. Leasing typically has no upfront costs. When you finance a purchase, you might have to make a down payment to help secure the loan.
Flexibility. Some leases let you cancel the lease at any time. You also have the freedom to lease different equipment when a lease ends. If you own equipment, you'll usually want to find a buyer for it before replacing it with new equipment, making it harder to upgrade.
Less responsibility. Depending on the details of your lease, the company that you're leasing from may cover the costs of maintenance and repairs.
Cons of Restaurant Equipment Leasing
Higher long-term cost. When you lease equipment, you don't build equity and you never finish paying it off. If you keep something for a long time, purchasing and eventually owning the equipment usually winds up cheaper in the long run.
No equity. Because you don't build equity in the equipment, you can't recoup the money spent on it by selling it.
Lease terms might not work for you. You're at the mercy of the leasing companies when it comes to the terms of a lease. If you only need to use the equipment for two years but leasing businesses offer deals with a minimum term of three years, that can cause problems for you.
Availability. If you want to work with a single leasing company, you have to accept what they have in inventory instead of getting exactly the equipment you want. Alternatively, you can lease from multiple businesses, but that adds complication in that you have to manage multiple lease agreements.
What Are the Best Restaurant Equipment Leasing Companies?
If you're looking to lease restaurant equipment, consider these companies.
Tips for Leasing Restaurant Equipment
When you lease equipment for your restaurant, keep these tips in mind.
Consider the total cost. Compare the long-term cost of leasing versus buying equipment. If buying is cheaper overall, consider it carefully before committing to a lease.
Shop around. Get lease offers from multiple companies to find the one with the best terms and lowest price.
Do your due diligence. Make sure you're working with a legitimate company and that its customer service is easy to work with.
Consider lease-to-own. Lease-to-own agreements usually cost more than traditional leases, but give you the option to buy the equipment at the end of the lease. That lets you test drive the equipment and, if you like it, buy it to use for the long term.
What Alternatives are There to Restaurant Leasing?
The primary alternative to restaurant leasing is borrowing money. You have two ways to borrow money to buy equipment.
Equipment financing. Equipment financing is a loan specifically for buying restaurant equipment. In some cases, these loans come directly from the equipment seller. These loans usually have lower credit requirements and interest rates because the equipment serves as collateral.
Restaurant financing. You can use restaurant financing for almost any purpose related to your restaurant, including buying equipment. There are many sources of restaurant financing, but because these loans are not secured, they usually cost more than equipment financing loans.

Final Word
Leasing equipment for your restaurant can be a great way to keep your upfront and monthly costs low. However, with a lease, you won't build equity in the equipment, which can mean higher prices in the long run. Before you lease, consider the alternatives and make sure it's the best choice for your business.