All content presented here and elsewhere is solely intended for informational purposes only. The reader is required to seek professional counsel before beginning any legal or financial endeavor.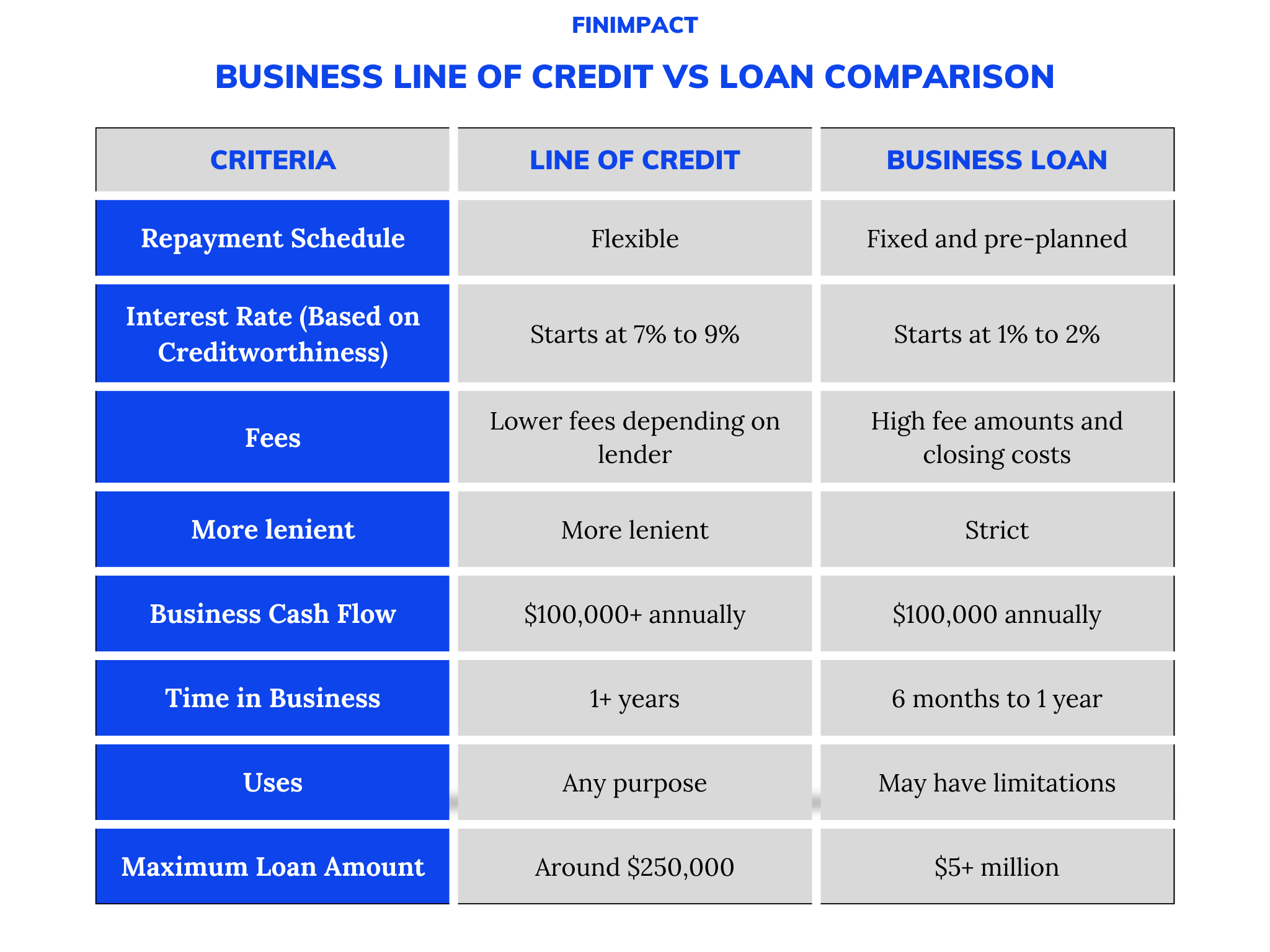 Almost certainly a business line of credit will be cheaper than a loan regarding interest payments. However, since each one has different obligations and parameters, the one that is the cheapest is not always the right one for your business especially when it comes to loan amounts, flexibility and ease of renewal.
What is a Business Line of Credit?
A business line of credit is an automatic recurring amount of money that you can draw from at your discretion. You only pay for the amount used, not the entire amount available. You'll pay for it at an agreed upon time in the future and receiving the loan again occurs automatically.
If you're looking for some extra funds to cover day-to-day expenses of your business, you might also consider getting a working capital loan. This type of funding is available fast and can help stabilize your cash flow.
What Is a Business Loan?
A business loan is a lump sum of money that you receive in one amount and does not renew when it has been used. The interest, the amount the loan costs, is paid every month or at a designated time and the interest is a percentage of the entire amount you were given.
Business Line of Credit vs. Loan: 5 Key Differences
1.

Repayment Schedule

Business Lines of credit: With lines of credit, borrowers aren't obligated to use their entire line of credit. You'll only make a payment when you draw from your line of credit. The payment and interest amount are based on the money you borrow.

Small business loans: With a small business loan, you're locked into a fixed repayment schedule for a fixed term length. You'll receive the full loan amount upfront and will be expected to start making payments immediately.
2.

Rates and Fees

Business lines of credit: Rates for a business line of credit can vary greatly. Some lenders and banks will charge interest based on the prime rate plus additional interest. For example: If the prime interest rate is currently 5%, banks may add anywhere from 1% to 9% to your APR (Annual Percentage Rate) depending on your creditworthiness. Origination and monthly fees may apply depending on the lender's terms.

Small business loans:
Tend to have lower rates and higher fees than a business line of credit - however, the fees and rates you'll pay heavily depend on factors such as your credit, financial health, and collateral.
SBA loans often have the lowest interest rates - this is because the Small Business Administration partially backs them.
Business loans come with origination fees - an upfront fee charged for processing the loan. This fee is usually a percentage of the entire loan amount, but lenders can also charge a flat fee.
Business loans come with closing costs - including underwriting fees, credit report fees, and any other costs associated with processing your business loan.
3.

Requirements

Here are some business line of credit requirements and business loan requirements to be aware of:
Credit score - business line of credit requirements are not as strict as business loan credit score requirements because borrowing amounts for lines of credit tend to be lower. If your credit history doesn't qualify you for an unsecured business line of credit, you might be able to get a secured line of credit.
Collateral - in the form of money or a business asset, is required when you obtain a secured business loan or line of credit. If you don't have a great business credit score, you might still qualify for a traditional business loan. Still, you might need to pay a higher interest rate.
On the other hand, when you take an equipment line of credit, that purchased equipment can serve as a collateral.
Business cash flow - the standard cash flow requirement for a business line of credit is at least $10,000 in revenue per month. Lenders also like to see that you've been in business for at least 12 months. Some microloans for small businesses require an annual revenue of $50,000. However, most business loans require an annual revenue of $100,000 or more.
Debt-to-Income Ratio - With a line of credit, lenders will want to see your current debt schedule to see if you have any significant debt payments. This information helps them determine whether you can afford to make timely payments. For a business loan, your debt-to-income ratio needs to be below 50% but preferably around 36%.
Time in business requirement - all businesses should be at least one year old. Some traditional business loans may require a longer timeframe if you borrow a larger amount.
4.

Uses

Unlike business loans, you can use a business line of credit for almost any purpose:

Boosting your business's cash flow
An everyday expense
An office lease
New equipment
Repaying a high-interest debt
5.

Loan Amounts

Small business loans have much higher maximum loan amounts reaching as high as millions of dollars. For a line of credit, the maximum amount is usually around $250,000.
How to Get a Business Line of Credit or a Business Loan
There are different types of business loans or lines of credit and various processes for obtaining them. Many different organizations offer them but they all will want to see the following.
Personal Financials
Credit score and history
Time in business
Revenue and cash flow
Business bank account details
How to Find the Right Financing Option For Your Business
Determine how much you need - a business line of credit is suitable for smaller financial needs, whereas a business loan can help cover higher costs.
Look at your credit - if you have a great credit score, you can use a business loan to fund large expenses, promoting business growth. If you're looking to improve your credit score and payment history, a business line of credit might be the better option.
Assess your need for flexibility - if you're looking for a flexible way to borrow cash for your business, a revolving credit line wins hands-down. It's an ideal option to boost your business's cash flow and access to capital but don't have a fixed, known expense.
Consider Your Long-Term and Short-Term Business Expenses
A low-interest business loan is a great option for long-term financing when you're looking to borrow a large amount. A line of credit can help you meet all your cash flow needs, providing you with financial peace of mind.

So, at this point, you likely want to know how to get a business line of credit? Backd is a top option for lines of credit loans because they have lenient requirements, low fees, and flexible repayment options. If you'd like to compare between offers of other lenders, visit our comparison of the best business line of credit companies.