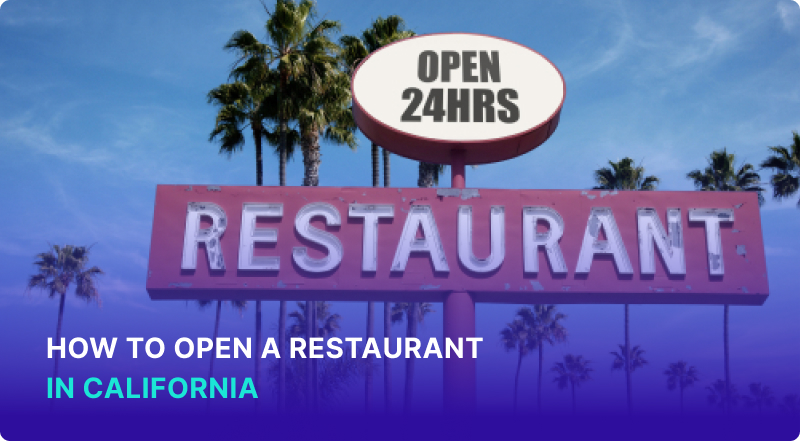 All content presented here and elsewhere is solely intended for informational purposes only. The reader is required to seek professional counsel before beginning any legal or financial endeavor.
Prospective restaurant owners in California will need to work through a series of steps to get the doors open. Although the process is a bit lengthy, opening a restaurant in the Golden State is entirely possible. Learn how to navigate the process in this guide.
Key Points:

Don't skip a business plan, which acts as a roadmap to success.
Although the process includes many steps, don't let that stand in your way.
Be ready and willing to sort through paperwork before serving your first customer.
Need more help starting a business in California? Take advantage of this full guide

.
Do Your Research
Before you jump into owning any kind of business, it's critical to do your homework ahead of time.
Evaluate the local food industry: Look for trends hitting the area. Find opportunities to serve customers better.
Consider the competition: You won't be the first restaurant in the area. Look for ways to stand out from the crowd.
Figure Out Finances
It's no secret that starting a restaurant is a significant financial commitment. Below are some of the costs you'll need to account for:
Physical location: Whether you buy or rent a space, you'll need the right spot to serve customers.
Equipment costs: You'll need many appliances to run a restaurant. Even if you are shopping for deals, you might spend thousands of dollars.
Wages: Unless you plan to run the business without help, you'll need to account for the wages required to retain employees.
The cost of starting a restaurant varies dramatically based on your unique situation and goals. Take the time to map out these costs ahead of time.
Craft a Business Plan
A business plan is a document that maps out your path to success.
Why make a business plan? Thinking through a business plan will help you make a plan for obstacles before they pop up.
Build your own business plan: Use our full guide to write a well-rounded business plan.
Obtain Funding
Most business owners don't cash flow their startups. Instead, they secure financing to get the ball rolling.
Find an investor: Investors are third parties that put up capital in exchange for equity. The right investor should provide capital and expertise.
Online lenders: Many online lenders offer business loans to restaurant startups. Repaying the loan can be a drag on your profits, but it might be what you need to get off the ground.
Find grants: Grant awards involve funds that you don't have to repay. If you qualify, never miss the chance to apply for a grant. You might like to learn more about dedicated restaurant grant opportunities.

Find a Location
A good restaurant location is a key part of your success.
Location matters: The location can make or break your restaurant venture. Do your research before landing on a spot.
Procure the space: You can either buy or lease your restaurant space. Choose whatever works best for your financial goals.
Complete the Paperwork
Opening a restaurant in California comes with a significant amount of paperwork. Here's what you'll need to do.
Form an entity: If forming a sole proprietorship, you aren't required to file paperwork. If forming an LLC or corporation, you'll need to file Articles of Organization or Articles of Incorporation with the state. Expect to pay between $70 to $100.
Get an EIN: When you have formed an entity, it's time to get your EIN from the IRS.
Get a business license: Depending on your location, the city or county might require you to get a business license.
Get a food handler's license: The state of California requires anyone who prepares or serves food to get their Food Handler's license within 30 days of starting.
Food facility permit: You'll need to prove that your location is clean enough to make food for public consumption.
Food service license: You must have this license before serving your first customer.
Liquor license: If you plan to serve any alcohol, you'll need to obtain a liquor license.
Get Restaurant Insurance
Restaurant insurance protects your business from potential liabilities. Business owners need to carry a variety of insurance policies to protect their financial interests. A few necessary policies include general liability insurance, workers' compensation insurance, business interruption insurance, and more.
General liability insurance: If someone gets hurt on your property, general liability insurance should kick in. Cost range from $300 to $5,000 per year.
Property insurance: If you own your building, this insurance protects the building and some items inside it. Expect to pay between $8,000 to $10,000 per year.
Liquor liability insurance: If you are serving alcohol, this protects you from the acts of an intoxicated guest. Plan to pay between $1,000 to $13,000 per year.
Worker's compensation: If you have employees, this kicks in if they get hurt on the job.
Auto liability insurance: Restaurants with a vehicle tied to the business must carry liability insurance. Plan to pay between $750 to $1,200 per commercial vehicle.
Purchase Equipment
Restaurants need some basic equipment and supplies to get started. Everyone's needs are a little different. But the shopping list below is a good place to start:
Refrigerators
Knives
Cutting board
Pots and pans
Blenders
Shelving
Flat range
Induction
Smoker
Small-space ventilation
Microwaves
Freezers
Ovens
Gas range
Point of sale system
Paperware for serving
Hire Employees
The right employees can make all the difference in your business.
Try to be competitive: Research minimum wages and what other restaurants in your area pay their employees. If possible, offer a living wage to make your restaurant positions competitive.
Train employees: Once you've hired the right people, you'll need to spend time training them on your systems.
Pass Your Inspection
Before you can open the doors to your first patron, you'll need to pass your county's health inspection.
Be prepared: In order to pass inspection, your restaurant must meet all of the health and safety requirements. Try to make any necessary upgrades before committing to an inspection.
Be willing to make changes: You can't open your restaurant without passing this inspection. Be flexible and make any necessary changes.
Market Your Restaurant
Some of the best restaurants get off the ground through word of mouth. But there are other strategies to encourage your very first customers.
Build a social media presence: A following on social media can get your business in front of thousands.
Run a deal: Encourage new customers to try your food by offering promotional deals.
Open Your Doors
At long last, it's time to open your doors. But this is not the finish line, it's just the beginning.
Create an amazing customer experience: Great food isn't the only thing a restaurant needs to succeed. If you create a positive experience for your customers, they'll come back for more.
How Much Does it Cost to Open a Restaurant in California?
According to a survey conducted by Restaurant Owner, the average restaurant startup costs range from $175,500 to $750,500. Of course, the exact costs of your startup will vary based on your unique strategy.
Want to explore restaurant start-up costs in more detail? Take a look at this full breakdown.
What Licenses and Permits are Required to Open a Restaurant in California?
You'll need to obtain various licenses and permits to open your restaurant in California.
Food handler permits: Everyone who handles food at your restaurant must obtain this permit.
Health permits: In most counties, a health permit requires an initial inspection.
Register with the state: You must file business registration forms with the California Secretary of State before opening your doors.
Business Mentoring Organizations That Could Help
Business advice from the right person could transform your journey. Here are two places to ask for help.
Local Chamber of Commerce: The Chamber of Commerce focuses on local issues impacting business owners.
Small Business Administration: The SBA offers ample resources from its many offices in California.
Final Word
A successful restaurant business in the Golden State might be a dream come true. Although it will take time and dedication, it's possible to open the restaurant of your dreams in California.