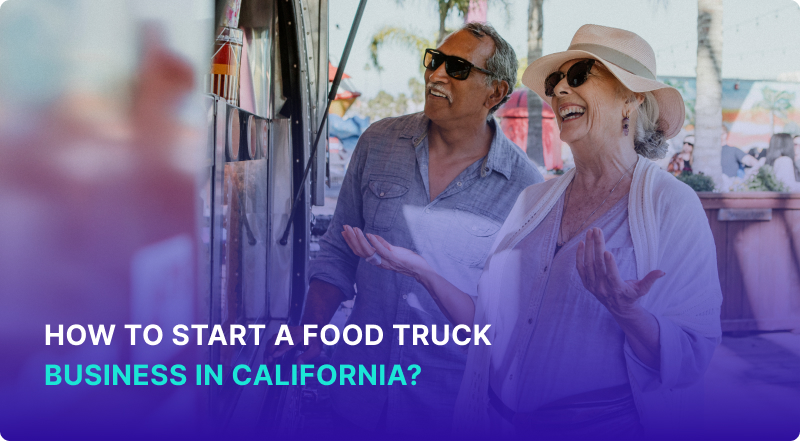 All content presented here and elsewhere is solely intended for informational purposes only. The reader is required to seek professional counsel before beginning any legal or financial endeavor.
Before starting your food truck business in California, you'll need to weigh the large customer base and the potential for a profitable business against a somewhat challenging startup process. If you are willing to invest your time and effort, food truck businesses have a high rate of success, commitment and effort is the key.
Key Points:

Use a business plan to lay a solid foundation for future success.

Don't let the long list of steps stand in the way of starting your food truck business.

Be prepared to tackle a lot of paperwork while you

get your business off the ground

.
How to Start a Food Truck Business in California
Prospective business owners with an idea for a food truck will need to go through several steps before serving their very first customer. Let's explore what you need to do to make your food truck idea a reality.
1. Conduct Market Research
Before diving into a business of any kind, you'll need to conduct market research.
Explore the food industry: What trends are hitting the food industry? Consider how your business could better serve customers.
Take stock of the competition: Look at the competing food trucks in your area. Determine how your food truck could stand out against the competition.
2. Choose Business Name, Food Type, and Menu
Food trucks encompass a wide range of styles. It's critical to find a niche that plays to your strengths.
Specific is best: Instead of offering a wide range of choices, consider choosing a specific niche that will set your food truck apart.
Choose a memorable name: You want customers to be able to share their new favorite food truck with their friends easily. Make the name easy to remember.
Mock up a menu: Although you don't need to know every menu item upfront, consider curating a few must-have menu items for your food truck.
3. Create a Business Plan
A business plan acts as a roadmap to success for your food truck.
Why make a business plan? Mapping out your food truck ideas will help you think through potential obstacles before a roadblock is thrown your way.
How to write a business plan for your food truck: Check out our full guide on drafting a business plan for your unique business plans.
4. Register with the California Secretary of State
With your business plan in hand, it's time to choose what type of business structure you want to create. After reviewing the business entity options, you can register your business.
Select a business entity type: Prospective business owners should review their business entity options. The first choice is between a sole proprietorship, a corporation, and an LLC. If you opt for an LLC, there's another choice between an S-corp and C-corp.
Register with the Secretary of State in California: Head to the California Secretary of State's website to file the necessary forms for business registration. If opting for an LLC, it's free to file your Articles of Organization. If opting for a sole proprietorship, you don't have to register at all.
5. Get an EIN from the IRS
After registration, you can get an EIN from the IRS. An EIN, or Employer Identification Number, is used by the IRS to identify your business for tax purposes.
What is an EIN? This nine-digit number represents the tax account of employers. You'll need this number when filing taxes or hiring employees.
How to get an EIN: You can apply for an EIN by filling out an online application with the IRS.
"Unless commitment is made, there are only promises and hopes; but no plans." – Peter F. Drucker
6. Open a Business Bank Account
With an EIN in hand, you can now open a business bank account.
Why open a business bank account? A business bank account allows you to separate your business and personal expenses. This makes for easier recordkeeping.
Beware of fees: When selecting a business bank account, choose an option that won't require a monthly fee.
7. Secure Financing
In many cases, business owners need to secure financing to get their food truck off the ground. If you are looking for funding, there are several ways to get it.
Find an investor: An investor is a third party that provides funds in exchange for equity in the business. Although you have to share the profits, some investors provide invaluable guidance along the way.
Online lenders: Online lenders offer food truck loans. You'll have to repay the loan with interest. But you won't have to share the future profits. Explore some of the best food truck loans here.
SBA loans: Small Business Administration loans provide a useful opportunity for new business owners. However, it can be challenging to obtain this type of funding.

8. Select a Location and Sign a Lease
As with all businesses, finding a good location is key to success for your food truck.
Location, location, location: The right location can make all the difference. Take the time to scout around for the best spot for your food truck. If you strike out in one spot, it's possible to transport your truck to a new location.
Sign a lease: Some food truck drivers set up shop at different places around town. But others sign a lease to rent a regular parking spot. Decide which option best suits your business goals.
9. Purchase or Rent a Vehicle
It's impossible to start a food truck business without the food truck itself. You'll have the option to buy or rent your vehicle of choice.
Buying your food truck: It's often more expensive to purchase your food truck. But you'll have full control over customizations. Plus, eventually, the business may pay off the truck loan.
Renting your food truck: It's usually less expensive to rent your food truck. However, you'll be at the whims of the truck's owner when your lease is up. If you want to maintain more flexibility, renting is likely the way to go.
"The best business plans are straightforward documents that spell out the who, what, where, why, and how much." - Paula Nelson
10. Buy the Necessary Supplies and Equipment
Every food truck requires some basic supplies to start serving customers. Your exact needs might vary, but here's a shopping list to get you started.
Ovens
Gas range
Flat range
Induction
Smoker
Small-space ventilation
Microwaves
Freezers
Refrigerators
Knives
Cutting board
Pots and pans
Blenders
Shelving
Safety equipment
First aid kit
Cleaning supplies
Sinks
Handwashing station
Point of sale system
Paperware for serving
Depending on your needs, you might spend anywhere from $25,000 to $100,000 to set up your food truck. But shopping carefully and considering used equipment might help you keep costs on the lower end.
11. Obtain Licenses and Permits from the State, County, and City
When you have the food truck set up, it's time to gather all of the necessary licenses and permits. In the state of California, food truck operators will need to get the following documents:
Food safety certification: In many areas of the state, you'll need to complete a food handler safety course. At the end of the course, you'll receive the certification.
Food handler permits: Someone with a food handler permit must be on board whenever the truck is open.
Mobile food facility permits: In some cities and counties, you might be required to get a mobile food facility permit.
Health permits: In most counties, the environmental health department will conduct an inspection before granting a permit.
Fire permits: Some counties and cities require food trucks to obtain a fire permit from the location fire department.
Zoning: You may need to get a permit from your city or county before setting up shop in areas around town.
If you aren't sure about the requirements for your particular location, reach out to your local Chamber or Commerce. This business organization should be able to help you determine all of your permitting requirements.
12. Acquire the Required Insurance
As a business owner, you should never skip the required insurance. Here are some of the food truck insurance types you might need to carry:
Vehicle insurance: You'll need to carry insurance on the actual truck. If you get in an accident, this will help cover the damages.
Workers' compensation insurance: If one of your employees gets hurt on the job, this will help cover their medical costs.
General liability insurance: If someone sues your business, this policy will step into cover damages and legal costs.
"Proper business planning demands that you focus on the self-interest of the customer at all times." - Brian Tracy
13. Hire and Train Employees
It might be tempting to do everything on your own. But most successful business owners choose to hire and train employees.
Create a competitive advertisement: In today's labor market, it's challenging to attract the right talent. Stand out by offering employees a good wage and working conditions.
Be patient while training: Not everything is obvious. Try to create extensive protocols to help your employees stay on track.
14. Market Your Business
While word of mouth can be an effective food truck marketing strategy in some locations, you might want to try other ways of attracting customers.
Run a promotion: Consider running a special to encourage new customers to give your business a try.
Build a social media presence: A large social media following can help you attract customers across the city.
15. Schedule Your Grand Opening
It's been a long journey to the starting gate. But with all of that legwork behind you, it's time to make your customers smile with a great meal.
Business Mentoring Organizations That Could Help
It never hurts to ask for a helping hand. Below you'll find a list of organizations that might be able to help you:
Small Business Administration: The Small Business Administration has multiple offices in California. You can find resources through the SBA to get your business rolling.
Women's Business Center: WBCs are available to help women start or grow their small businesses.
Final Word
Starting a food truck business in California isn't a walk in the park. Break up the tasks into manageable steps. As you move through the process, try to tackle one thing at a time to avoid overwhelm. Don't be afraid to get creative with your food truck. Your future customers might love your unique take on their favorite foods.