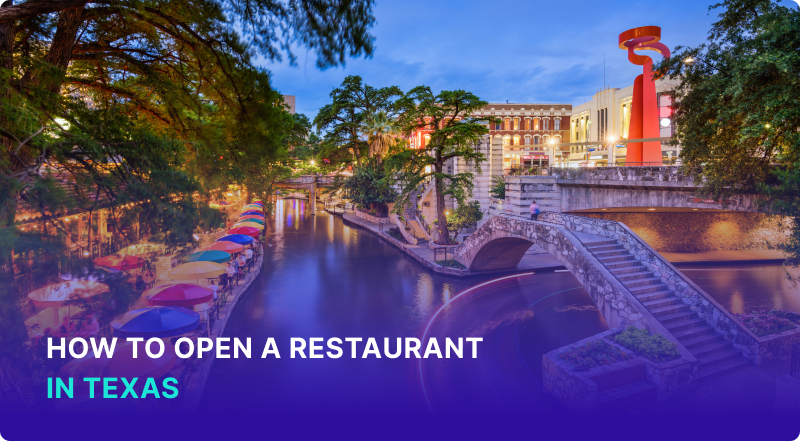 All content presented here and elsewhere is solely intended for informational purposes only. The reader is required to seek professional counsel before beginning any legal or financial endeavor.
Texas is often considered a business-friendly state. If you are looking to start your restaurant in this populous state, you'll find plenty of opportunities available. However, thoughtful planning can make all the difference when getting a business off the ground in Texas.
Key Points:

Opening a restaurant in Texas involves many steps. But the payoff can be large in this big market.
Paperwork is a part of starting any business. Don't let paperwork stand in the way of your business goals.
A great customer experience is what keeps your restaurant business booming. Keep the customer in mind throughout the process.

Need help starting a business in Texas? Take advantage of

our full guide

.
Calculate the Cost to Open a Restaurant in Texas
According to a survey conducted by Restaurant Owner, the average startup costs for a restaurant range from $175,500 to $750,000. However, your exact costs will vary based on your location and business. Below are some costs to keep in mind.
Commercial space: Running a restaurant requires commercial space. You can buy or lease the space you need. Typically, leasing is more affordable upfront.
Kitchen equipment: Restaurants involve a large number of functional appliances and ample equipment. It may cost several thousand dollars to get what you need.
Technology: A point-of-sale system and reservation tool are just a few of the technology-based costs you might need to purchase.
Furniture: You can't have your guests sit on the floor. If you are looking to cut costs, shopping used can help.
Permits, licenses, and paperwork: Starting a restaurant means you'll need to obtain permits and sort through paperwork. Generally, submitting paperwork to the state comes with a fee.
Select a Business Name and Type
A catchy restaurant name might help customers spread the word about your good food. Once you select the right name, it's time to create a business entity. Here are your options:
Sole proprietorship: A sole proprietorship doesn't involve entity formation paperwork. But as a business owner, you aren't protected from business liabilities.
Partnership: A partnership involves two pirates going into business together. The legal structure is helpful for protecting the interests of the business.
LLC: A limited liability corporation limits the business owner's responsibilities. But creating this legal structure requires more paperwork than a sole proprietorship.
Corporation: A corporation is owned by shareholders, which means others will be involved in owning your restaurant.
Understand Zoning Regulations for Texas Restaurants
Cities and counties in Texas have local zoning laws that restaurants must abide by.
Commercial vs residential: Texas restaurants must be in areas zoned for commercial use.
Look at a zoning map: Cities often have a zoning map available on their website. This should help you nail down where you can open a restaurant in the city.
Choose a Location for Your Texas Restaurant
A good location is an essential ingredient for your restaurant's success.
Scope out the restaurant scene: Find out where locals love to congregate. You might not want to open a restaurant on the quiet side of town.
Look for successful competitors: If many restaurants are doing well in a particular area, consider that as one opportunity.
Don't overpay: While a good location is important, you don't want your lease or mortgage payment to drain your business. Strike a balance between popularity and affordability.
Learn about ADA Accessibility in Texas
The ADA, or Americans with Disabilities Act, means that restaurants cannot exclude people with disabilities from using their restaurants. With that, you must make your space ADA-compliant to avoid potential lawsuits.
Accessibility: Make sure to have accessible parking, entrances, and maneuvering space for all customers.
Restrooms: Make sure restrooms are large enough for a wheelchair.
"Opportunity is missed by most people because it is dressed in overalls and looks like work." – Thomas Edison
Research Health and Safety Requirement for Texas Restaurants
The Texas Department of State Health Services oversees the health and safety requirements for restaurants in the state.
Certified Food Manager's Certificate: Shift managers must have a certified food manager's certificate.
Food handler certification: Everyone who handles or serves food must obtain a food handler certification.
Meet safety requirements: You'll need to pass an inspection that checks for handwash facilities, water pressure, sewage disposal system, approved water source, and an accurate thermometer for each appliance.
Know What Licenses and Permits You Need to Open a Texas Restaurant
As with every state, Texas restaurant owners must obtain a series of licenses and permits to operate.
Facilities permit: Before serving any customers, your facility must be permitted for guests.
Alcohol permit: If you are planning to serve any alcohol, you'll need to get a permit.
Outdoor seating permit: Some cities, like Austin, require an outdoor seating permit.
Understand Texas Restaurant Tax Requirements
Taxes are an unavoidable part of running a small business. Be prepared to handle the following taxes:
Sales tax permit: You must get a sale tax permit in order to collect and remit necessary sales tax.
Payroll taxes: Employers must fund payroll taxes for the federal government to cover certain programs, like Social Security.
Unemployment tax: You must pay unemployment taxes for your workers.
Get the Required Restaurant Insurance
Insurance is an often overlooked, but critical, part of opening a restaurant. Without the right insurance, you could get stuck in an expensive lawsuit.
General liability insurance: If someone gets injured at your restaurant, general liability insurance should protect you.
Property insurance: Renters don't have to worry about property insurance. But if you purchase the building, be prepared for this expense.
Worker's compensation: If you have employees, you must carry this insurance which kicks in if someone gets hurt on the job.
Auto liability insurance: Restaurants that use a commercial vehicle need to carry liability insurance on it.
Food contamination insurance: If a power outage leads to food spoilage, this insurance will help you recoup the costs.
Business interruption insurance: If an unexpected event closes down your business, interruption insurance may help to cover the gap.
Buy the Necessary Equipment for Your Restaurant
Every restaurant needs some level of kitchen equipment. Here's what you might want to put on your shopping list:
Shelving
Flat range
Induction
Smoker
Pots and pans
Blenders
Gas range
Point of sale system
Paperware for serving
Small-space ventilation
Microwaves
Freezers
Knives
Cutting board
Ovens
If you want to save while buying equipment, shop for used options.
"If you do build a great experience, customers tell each other about that. Word of mouth is very powerful." – Jeff Bezos
Hire and Train Employees
The employees you hire will interact with your customers, and be a part of their dining experience. It's critical to find good employees you can trust to create an excellent atmosphere.
Create a great workplace: The right employees can make all the difference. Do your best to attract the best employees with a thoughtful workplace environment.
Invest in training: Don't expect your employees to jump in without any training. Invest in training resources to build a cohesive team experience.
Pass Your Texas Restaurant Health Inspections
Before you can open the doors, the restaurant must pass health inspections.
Why health inspections exist: The goal of health inspections is to protect the public from unsanitary food conditions.
Be prepared: Look at the requirements for passing before the inspector shows up. Do your best to help your restaurant pass the test on the first try.
What Are the Legal Requirements for Opening a Restaurant in Texas?
If you want to open a restaurant in Texas, you'll need to meet a series of legal requirements.
Permits and certifications: You must obtain the necessary local permits. Plus, you must have staff on hand with Food Managers and Food Handlers certifications.
Pass a health inspection: You cannot open your restaurant before it passes a health inspection. The food must be prepared in this inspected space.
Where Can You Get Funding to Open a restaurant in Texas?
When opening a restaurant, you'll likely need to secure funding from an outside source. Below you'll find some of the top funding sources:
Online lenders: Many business owners turn to online lenders for restaurant loans. While you'll have to repay the loan, the funds could kickstart your success.
Grants: Grants awards come with funds that you don't have to pay back. For those who qualify, restaurant grants are a worthwhile opportunity.
Investors: Investors with the right experience can be a big deal for your business. But you'll have to trade equity for funding.

Business Mentoring Organizations That Could Help
Every new business owner has questions. Business mentoring organizations can help answer your questions.
Small Business Administration: The SBA offers loans, grants, and mentorship from its Texas offices.
Local Chamber of Commerce: Your Chamber of Commerce will have its ear to the ground about opportunities for business owners in your community.
Final Word
Opening a restaurant in Texas is an exciting adventure. Although you'll encounter paperwork and funding hurdles, the end result can lead to smiling faces of your new customers.