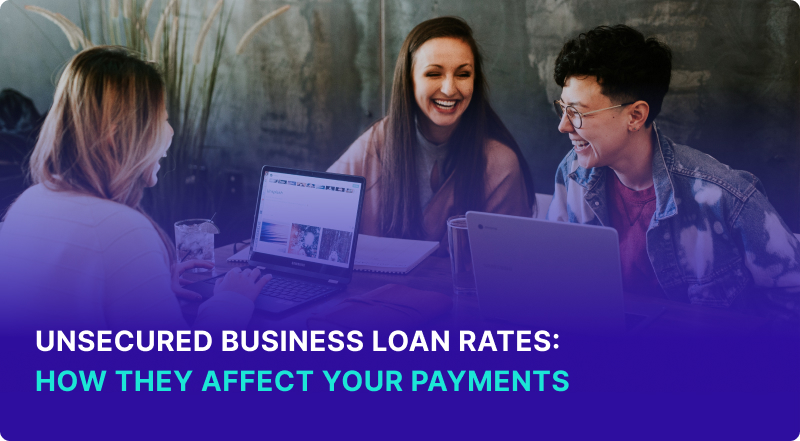 All content presented here and elsewhere is solely intended for informational purposes only. The reader is required to seek professional counsel before beginning any legal or financial endeavor.
Unsecured business loan rates tend to be higher than the interest rates for secured loans, but there are some advantages to them. One of the primary benefits is that your company won't need to have significant assets to serve as collateral for the loan. If you and your company have good finances and credit, you can get a low rate without needing collateral.
Key Points:

Business loans are a great way to fund your business' expansion

Good credit is essential if you want an unsecured business loan

Unsecured loans are often more expensive but don't require assets to serve as collateral
What are the interest rates on unsecured loans?
The interest rates on unsecured business loans can vary widely. There are many factors that influence what you'll pay.
Market rates. The interest rate market rates rise and fall based on many factors, including target rates set by the government. Current economic conditions will impact your rate.
Your personal and business credit. The better your personal credit and business credit ratings, the lower the rate will tend to be.
How long your business has been operating. Established businesses are less risky while newer businesses are more likely to fail. Older companies can often secure lower rates.
Your business' revenue. The more money your company makes, the more cash it will have available to pay off loans. That means less risk, reducing interest rates.
Average small business loan interest rates by loan product
Different types of small business loans have different interest rates. These are some ranges for different types of loans.
| | | | | | | |
| --- | --- | --- | --- | --- | --- | --- |
| Loan Type | Term loan | Line of credit | Invoice financing | Inventory financing | Purchase order financing | Merchant cash advances |
| Average APR | 2.5% - 7% | 10%+ | 10%+ | 6% - 25% | 1.5% - 3% per day | 10%+ |
Why Are the Interest Rates Higher (for an unsecured business loan) Than a Secured Loan?
The number one factor that influences interest rates for all loan products is risk. The more risk a lender is taking on by making a loan, the more compensation it wants for that risk. Riskier loans will therefore have higher interest rates than less risky loans.
Unsecured loans, by definition, are riskier than secured loans, which causes them to cost more than a secured loan.
With a secured loan, if you stop making payments, the lender can repossess or foreclose on the asset securing the loan. It can then sell that asset to recoup its losses. If you stop paying on an unsecured loan, there isn't a collateral asset for the lender to repossess, making it more likely that the lender will lose money.
This leads lenders to charge more for these loans to make up for their potential losses.
Advantages of Unsecured Business Loans
If you're in the market for a business loan, there are many advantages to getting one that is unsecured.
They can be easy to obtain. Unsecured loans don't require collateral. If you have a young business or one with few assets, that can make these easier to qualify for.
Approval can be quick. With secured loans, the lender usually has to verify that the collateral will be sufficient to cover its risk. Unsecured loans don't have that extra step, making them faster.
Fewer restrictions on use. Many secured loans are restricted in how you use them. For example, a lender may offer loans specifically for buying heavy equipment and you can't use that money to do anything else, like buy inventory.
Less risk for the business. If you fail to pay a secured loan, the lender will repossess the collateral asset. Because unsecured loans have no collateral, there's less risk of that happening to you. Check out startup business loans no collateral for further details.
Unsecured loans may be discharged in bankruptcy. If your company goes bankrupt, you may be able to unsecured debt discharged. That is less common with secured debt.
Disadvantages of Unsecured Business Loans
Unsecured business loans aren't perfect. Make sure to think about the drawbacks before signing the paperwork.
Personal guarantees are required. Many lenders will require a personal guarantee for unsecured loans. That means that if your company can't pay the debt, you'll become personally responsible for it. See

business loan without personal guarantee

if you wish to avoid providing a personal guarantor.
You could pay a high interest rate. Unsecured loans often have high interest rates, which means the loan will be more expensive.
They usually feature shorter repayment terms. Many lenders will limit the maximum term of unsecured loans. That can drive up the monthly payment and make them harder to afford.
They tend to have stricter qualification requirements. Because there is no asset to guarantee the loan, lenders are relying on your promise that you'll pay back an unsecured loan. That means that you'll need much better credit to qualify than with a secured loan.
How to Get the Best Unsecured Business Loan Rates – Have Good Credit
When it comes to getting cheap loans, the most important thing that you can do is have good credit.
Credit bureaus are companies that track both individuals' and businesses' interactions with credit. They use the information that they compile to generate credit scores for both people and companies. They are numerical scores, usually ranging from 300 to 850 under most scoring formulas.
The higher your credit score, the less risky you are as a borrower. Scores above 750 are generally seen as excellent while scores above 670 or so are seen as good.
If you have excellent credit, you'll be able to secure low loan rates and often get approved for unsecured loans instantly. If you have poor or fair credit, it can be harder to qualify and instant qualification will be rare.
Factors that affect Business Loan Interest Rates
There are many things that influence business loan rates.
Nature of Business. Some industries are inherently riskier than others, which means lenders may adjust their interest rates based on the industry you operate in.
Business Existence. Older, more established businesses are generally less risky than

newer companies

. If you have a startup, expect to pay higher interest rates.
Monthly Turnover. If your company brings in a lot of money every month, you can expect to secure a lower interest rate than a company with low revenues that might struggle to afford payments.
Credit Score. Because unsecured business loans typically require a personal guarantee, both your personal credit and your

business credit score

will influence the interest rate of the loan.
Collateral/Security. The less risk a lender takes, the lower interest rates it can offer. Secured loans tend to have lower rates than unsecured ones.
Type of Lender. Some types of lenders have better rates than others. In general, online lenders have the lowest rates because they have lower overhead costs than physical banks and credit unions. Explore our

list of the best unsecured business loans

offered by online lenders to compare their offers.
Frequently Asked Questions (FAQs)
Before applying for an unsecured business loan, make sure you understand how they work.