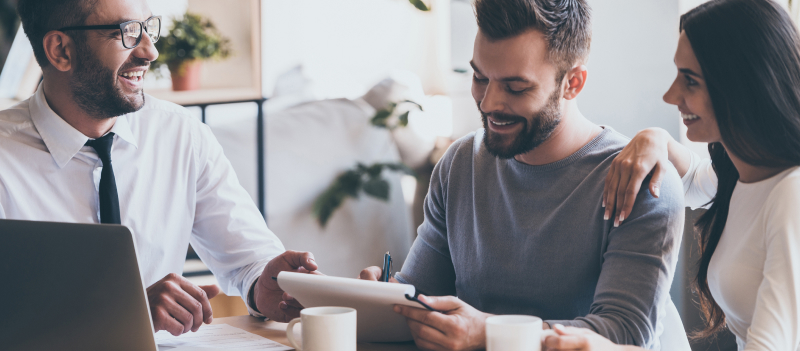 All content presented here and elsewhere is solely intended for informational purposes only. The reader is required to seek professional counsel before beginning any legal or financial endeavor.
New businesses, as well as established ones, often need cash injections to grow their companies. Acquiring a business loan allows businesses to invest in more sales, create more profit, and expand. The assumption is that if you have a bad credit score you can not be trusted enough for lenders to extend you a loan. However, you can still find lenders that will extend you first time business loans even with bad credit.
Think outside the box: Be resourceful and do your research, there are financing options out there that offer loans to people with low credit scores.
How to Acquire a First-Time Business Loan with Bad Credit
So you're concerned about securing funds for your business. Below you'll find a step-by-step guide on what to do to qualify, apply, and be approved for a first-time business loan when you have bad credit:
Know your score: This will determine how lenders will evaluate your loan application. If you have an established business that has a better credit score, you can find out its credit score through

business credit monitoring services

Experian, Equifax or

Dun & Bradstreet (D&B)

.

Do your research: Look into different online and non-profit lenders to get the best terms possible and make sure payments will be manageable for your business.
Gather the paperwork: Lenders will review your

business plan

, personal and business bank statements and other financial documents. Sometimes you may also be asked to provide

business licenses

and legal documents, details of how you will use the funds, and to identify possible co-signers, provide a down payment, and/or

collateral

.

Send your application: Every lender has their own unique application process. When in doubt about any part of the application, contact your preferred lender before you submit it. This way, you ensure you're providing the information they're looking for instead of making a guess and increase your chance of getting approved. Note that borrowers with poor credit are often contacted by a lender for additional documentation.
Continue to improve your credit score: While you're waiting for news on your application, try to

bring up your credit score

to at least 670. You can do this by paying down debts and making on-time payments.
Pros and Cons of Taking Out a First-Time Business Loan with Bad Credit
Getting a business loan is a big deal for your company, especially if you're in a challenging financial situation. Here are a few points to keep in mind when you're making the decision.
Pros of First-Time Business Loan with Bad Credit
Extra funds: You need money to get money. Extra funds can be helpful when it comes to covering expenses and payroll,

investing in equipment

, or getting through low-earning months.

Improving your credit score: Down paying high interest debts shows you're a reliable borrower. Ultimately, this can open the door to other financing options.
Cons of First-Time Business Loan with Bad Credit
High interest rates: When you have a poor credit score, lenders tend to charge more as you're considered a risky borrower.
Document scrutiny: Lenders will take an extra close look at your finances, including statements, tax returns, invoices, cash flow and more. Be prepared to provide any documents they require.
Access to smaller amounts of funds: Lower credit scores mean your business will have lower borrowing limits.
Don't be discouraged: If at first you don't succeed, find a different lending institution.
Where to Acquire a First-Time Business Loan with Bad Credit
When you have a poor credit score, traditional lenders like banks or credit unions are challenging to get a loan from at best and impossible at worst. Instead, turn your sights to online or non-profit lenders. While these lenders offer small business loans to scores between 300 and 629, their interest rates are typically higher than traditional entities. Here are a few types of lending institutions that offer loans to businesses with bad credit:
Online lenders: Depending on the online lender you pick, they might require your credit score to be between 500 and 650 or have no minimum credit score. These types of lenders usually approve loans fast and often focus on your business's cash flow. However, they charge high interest rates.
Microlenders: Looking for a loan under $50,000? Then this type of lender might be the right fit for your business. Because microlenders usually offer funds that come from nonprofits, this is a great option for newer businesses that are just starting their credit history or have bad credit. Approved loans from microlenders often go to businesses from underserved communities.
CDFIs: Funding from a community development financial institution (CDFI) comes from the government with the aim to provide financing for applicants from underserved communities. These loans have a competitive interest rate, flexible credit requirements, but are often slower to approve applicants than online lenders.
Invoice factoring companies: This type of lending model involves selling your business's outstanding invoices to a third-party company for a cash payment. This approach is ideal if you need access to fast cash and don't qualify for a traditional loan.
Merchant service providers: This is ideal for businesses that have a high volume of sales. This kind of lending model provides cash advances in exchange for a portion of future credit card sales.
Example Lenders for First-Time Business Loans for Bad Credit
Depending on your business needs, one lending institution may be more beneficial than another. Here are various types of business loans that may be available to company owners with bad credit who want to take out their first business loan.
Fora Financial

: This online term loan is ideal if you have a credit score of 550 or higher and are looking to purchase inventory. With this loan, you may be able to qualify for a working capital loan of up to $750,000.

Fundbox

: Its quick approval process means funds could be deposited into your business bank account as soon as the next business day. Keep in mind, though, that the max repayment term is only 24 weeks — which might not be long enough depending on your business's current financial status.

OnDeck

: If your credit score is at least 625, you may be able to qualify for an OnDeck loan of up to $250,000. These short-term business loans are good for specific, one-time purchases.

SBA microloan

: Offered through nonprofit and community-based organizations, the average microloan is roughly $13,000.

Kiva: This microlender has no minimum credit score requirements and crowdfunds loans up to $15,000 with terms up to 36 months.
Take action: While you're finding institutions that will offer you a loan with your current credit score, make sure you're actively working on nursing your credit back to health.
How to Find the Best First-Time Business Loan for Your Company
Sorting through the numerous lender options is a crucial part of finding the one that works best for your business. However, it can easily become an overwhelming task if you don't know exactly what to look for. Below are a few tips to keep in mind when you're looking at the right option for your business needs.
Learn Minimum Credit Score Requirements: Each lending entity has a minimum credit score as a requirement that determines your business's creditworthiness. Find this out before you look further into a business loan to understand if it matches your needs.
Check Additional Qualifications: When you have a low credit score, lending institutions will often ask for additional documents. Some of these documents may include business licenses and legal documents, details of how you will use the funds, co-signers, documents that prove you can make a down payment, and/or collateral.
Compare Interest Rate Ranges Each Lender Offers: Every lending institution will have something unique to offer. Make sure you shop around different lending institutions and find the best interest rate deal for your business needs and won't be tying your business up in something you can't possibly pay back.
Consider Payment Terms and Flexibility:

Short-term business loans

typically range between 3 to 24 months. Medium-term business loans can have a repayment period of up to 5 years, while long-term often extends to 10 years and beyond. You should also look at the terms being flexible. This way, you can increase or decrease the amount borrowed, vary repayments, and in some cases even make a payment at a different time.

Look for Additional Fees: When you're getting a loan, make sure you have a thorough understanding of all the fees you'll be paying. Here are a few to consider:

Appraisal fees

Attorney fees

Credit report fees

Recording fees

Late fees

Evaluate Each Lender's Reputation: Knowing who you're in business with can make or break your company. Check your lending institution's reviews on sites like

TrustPilot

.

Pre-Qualify for Lending Options: By pre-qualifying for various lending institutions, you'll have an array of possibilities you can choose from before committing to one specific lender and evaluating whether what they offer aligns with your business needs.

What to Do If You're Denied a Business Loan Because of Bad Credit
Even though getting denied a business loan can be disheartening, there's no reason to despair. If you have enough time, try to improve your credit score by paying high-interest debt. If you're on a tight timeline, you can look at pre-qualifying with non-traditional lenders that don't require a minimum credit score. In addition to that, you can offer to increase your down payment amount, provide collateral, or request a lower loan amount.
Final Word
Going to lending institutions with a low credit score can be unnerving at first sight. However, if you're confident in what your business has to offer, and you have a plan to get it off the ground, there is no reason why you shouldn't look into applying to alternative lending institutions. By carefully evaluating your options and resources, you can create a solid application, and ultimately access the necessary funds for your business.