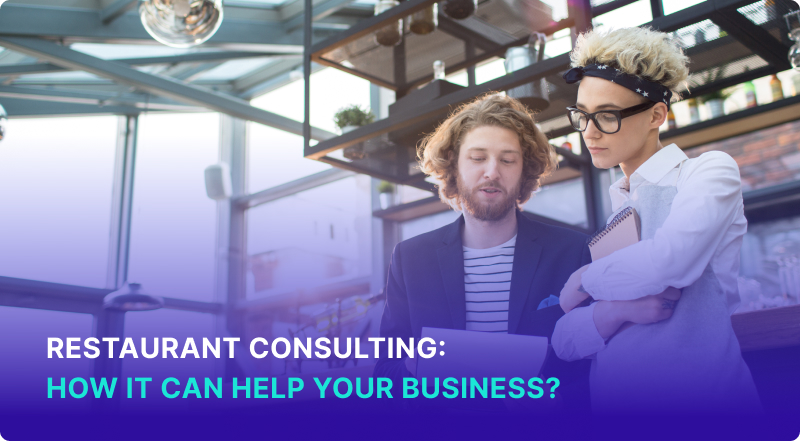 All content presented here and elsewhere is solely intended for informational purposes only. The reader is required to seek professional counsel before beginning any legal or financial endeavor.
Whether you've seen your menu go south, or are blindsided by new safety or reporting requirements, a restaurant consulting firm may be a go to source of information and support to help your business get through the challenges ahead. Restaurants are uniquely subject to an ever changing environment and need constant attention to keep customers safe and happy. Whatever your restaurant is facing you may want to turn to a pro for support, but what do restaurant consulting firms handle and when should you use one?
What Is Restaurant Consulting?
Restaurant consulting is a service a restaurant owner can hire ad-hoc, or at a point in time, to support the needs of the restaurant. Restaurant consulting firms will come in and get an understanding of the business, the challenges faced, and formula a tailored solution to solve that issue.
Restaurant consulting is similar to traditional consulting in that you are hiring experts for their advice and to support your business through the best path forward. What is unique is that given the nuance of the restaurant business, these firms have formed into niches specifically geared toward supporting the landscape today's restaurants must operate in.
When Should You Consider Using a Restaurant Consulting Firm?
When to consider hiring outside help to support your business depends on various factors such as how much time do you have until the challenge becomes an issue, how much will it cost, can things be sorted in house with the team that exists today, or do you have the know how to unblock the business from whatever is being faced.
While you may not always have the perfect answer it is important to know what type of services are supported. When in doubt it does not hurt to inquire and ask for quotes or timelines from these experts. Below is a menu of some of the services you can expect most restaurant consulting firms to offer to their clients.
How Much Does a Restaurant Consulting Firm Cost?
Restaurant consulting firms have different rates and fees depending on the service you're purchasing and the contract type. Typically these rates vary based on the experience you're receiving (i.e. more experienced firms will charge more, versus lesser experienced firms may discount for the opportunity).
Business owners should also consider contract types. Some of the most frequently seen contract types are fixed price and hourly. With a fixed price contract you can expect the restaurant consulting firm to scope the work and give you one lump sum to pay, whether in installments or not, to complete the work. On the flip side, hourly contracts will charge business owners by the hour for the work the firm performs.
If you are in need of a restaurant consulting firm but low on funds there are still options for owners. Owners may qualify for loans specific to the restaurant industry or can potentially turn to small business loans. With a loan and a project in mind that may have a positive return, it's possible for owners to strategically borrow and repay their loans with the results driven by the restaurant consulting firm.

Pros and Cons of Hiring a Restaurant Consulting Firm
There are various advantages and drawbacks to consider when hiring an outside firm to support your business. We list some of the bigger ones to consider below.
Pros of Hiring a Restaurant Consulting Firm
Experts Supporting Your Business - Experts may have seen the issues you're facing before, or have connections who know exactly how to deal with the problem you may be facing. These types of people know how to fix your issue and unblock the problem more efficiently and possibly more accurately versus owners learning everything they need to do it themselves.
On Demand Resourcing - Sometimes there are problems you may need to just throw people at to unblock such as moving a facility from one location to another, or having a small team crunch your financials all the way back from your opening day. Having instant access to headcount is certainly a plus.
Focus on your Business - If you are heads down focused on your business let's say creating a new menu, you may need a helping hand to focus on other aspects of the business. Given the Ad Hoc nature of relationships with restaurant consulting firms this can be a positive way to keep the lights on while your attention shifts.
Cons of Hiring a Restaurant Consulting Firm
Cost - Experts cost money, and sometimes a lot. Typically depending on the demand at the time you're shopping prices will vary, but you can expect to make a small investment when turning to a professional for your business.
Timelines - Things may take longer than expected when hiring the pros. If you align on a timeline, and things during the project change or new requirements are added, timelines may slip. If you're on an hourly contract this may not only mean more time but also more money.
Results Vary - Depending on the scope of work you hired for and the level of expertise you hired, your expectations may not meet the delivery of what you purchased. While there are options to push back and ensure the scope you set out is covered by the restaurant consulting firm, this will add time and potentially headaches.
Top 10 Restaurant Consulting Firms
There are many different opinions on what the top ten consulting firms are. Looking at common themes throughout various sources the below list was compiled in no specific order.
Baum + Whiteman
The Culinary Edge
Aaron Allen & Associates
PFK Consulting
The Robin Report
Alix Partners
Technomic
JLL Restaurants
Joe's Restaurant Consulting
HVS Consulting & Valuation.
How to Find the Right Restaurant Consultant
Finding a well-qualified restaurant consulting firm takes time and patience. You can expect to start by understanding your problem and articulate it in a way where a consulting firm may be able to offer specific solutions or steps to solve the problem.
From there, owners may start to send out feeler emails and calls to get in contact with various firms. The idea in this next phase is to understand whether the firm you're contacting can support your problem, and if so what their resourcing and timelines look like for the job. Firms may also turn you down if they are at capacity or the service is out of their area of expertise.
Once you've landed on a firm you can expect the firm to formally scope the work and create a statement of work, a document outlining the deliverables, who will be completing the work, and the costs associated with completing the job. The statement of work will also contain legalese defining conflicts and issues, this step may require a lawyer depending on the complexity and investment.
A Restaurant Consultant Firm Example
In 2020 and 2021 restaurants were faced with a unique issue; due to the COVID virus many states did not allow for indoor dining. Restaurants limited in outdoor seating were now faced with a decrease in customers they could support safely. This unique problem may be a perfect scenario to hire expert outside support.
A midwest restaurant was faced with this issue and hired an outside expert. They patiently waited until they spoke with a firm who has been helping many competing restaurants around town find more space to service guests. The restaurant signed a fixed price contract with the firm where the firm signed up to double the serviceable capacity of customers.
The firm took the problem and worked with the city to block a certain amount of parking spaces, set up protective barriers, and covered the parking space to add the needed tables for the restaurant to double their capacity. Once the work was complete, both parties parted ways. Doubling capacity increased the restaurant's revenue and made for an easy investment in hindsight.
Final Word
Restaurant consultants are an excellent tool for any restaurant owner. Whether you need one today or in the future, it's always a great resource to have in your back pocket as navigating the ever changing landscape of running a safe and healthy food establishment changes. While the relationships and fit do take time and patience, a skilled restaurant owner should have the knowledge and instinct to know when to hire and for what.