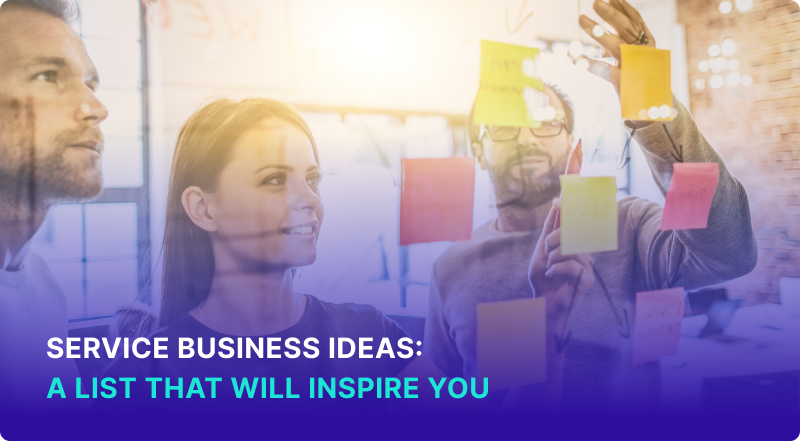 All content presented here and elsewhere is solely intended for informational purposes only. The reader is required to seek professional counsel before beginning any legal or financial endeavor.
Any economic activity that provides services to customers instead of goods or products is a service business. Service businesses make up 67 percent of GDP in the United States. If you're on the hunt for service business ideas, below you'll find a broad list that will inspire you to get started with your own.
Key Points:

Alignment: Make sure the service

business idea

you decide on is in line with something you feel you're not only good at but are also interested in, since you will be pouring your time and energy into it.

Discovery: There will be a lot of trial and error when you're first starting a business. Be quick to learn from your mistakes and receptive to those who may have more expertise in the area.
Stay motivated: In our modern age of instant gratification, it can be disheartening when things don't immediately take off. Evaluate how to improve and stay the course.
53 of the Best Service-Based Business Ideas
Listen, we get it. Finding the most profitable service business idea that fits with your passions and lifestyle is challenging. Here's a comprehensive list that will set you on the right path:
Academic Tutoring: Some students need extra help and attention with schoolwork. If academics are your forte, you can offer your services to students and spend a few hours on a daily, weekly, or monthly basis to help them improve their skills on a specific topic and ultimately boost their grades.
Acupuncturist: Alternative medicine has become increasingly popular in the west. This practice requires service providers to be licensed in most states in the U.S. in order to safely promote physical and emotional well-being for their customers which ranges between $30,000-$40,000 for the entire program of training. Once you're licensed, startup costs usually range from $2,000-$5000.
Adventure Tour Company: Offer travelers a curated list of experiences with a specific kind of adventure in mind: ecotourism, dark tourism, romantic destinations etc. You can start small by creating packages for friends, family, and friends of friends. This will allow you to begin your service business without startup costs and get the ball rolling.
Affiliate Sales and Marketing Consultant: This highly successful strategy for customer acquisition requires affiliate marketers to have a platform or channel. So whether you have an engaged social media following, podcast or blog, affiliate marketers earn a commission when one of their audience members makes a purchase using their affiliate link. Other than owning a device to engage your audience on your preferred platform, there are no startup costs.
Air Conditioning Installation and Maintenance: Everyone's air conditioner requires maintenance at least once annually. If you live in a state where summers are especially hot, you'll be on a busy schedule. Startup costs for installation and maintenance services. The average startup costs for an air conditioning business are between $3,000-$12,000.
App Developer: Every serious business has an app—from restaurants to banking services. Designing an application is a great way for businesses to connect with their users. Developing a simple app for a business can range from $16,000 – $32,000, while a more complex app development is in the $72,000+ ballpark.
Appliance Repair: Sooner or later, home appliances need repair due to damage or malfunction. With an increasing focus on consumers repairing instead of buying something new, repair services are on the rise. Most local appliance repair experts charge $50 to $150 per hour.
Bartending Services: Whether it's a wedding, a concert, or a party, creating delicious cocktails is at the heart of any successful events...and also what brings a significant amount of the profits. Offering bartending services allows you to travel to various locations and can earn you around $200 per night.
Beach Equipment Rentals: This industry is on the rise. In fact, you can get started with a basic beach chair rental business for as little as $3,000 and every week during peak season, a single beach chair can make between $200 and $300.
Bicycle Repair: Setting up a bike repair shop can range from $47,500 to $237,500. However, if you start doing it for your friends, family, and acquaintances, and you run your business out of your garage you can lower the costs. Full-time bike repair businesses usually earn around $1,600 per week.
Birthday Party Character Appearances: There is nothing that children adore more than their beloved fictional characters. Make sure to do your market research thoroughly to get started by purchasing at least 5 fictional character costumes that are going to be a success with kids. You can charge $200 for 90-minute appearances, which can add up to over $50,000 annually.
Birth Photographer: The birth of a child is one of the most memorable moments for any family. This is a great business to get started with if you have a knack for photography and are good with portraits. Getting started requires you to get a professional camera, which can be in the $800-$8,000 range.
Bookkeeper: Any serious, established business needs a bookkeeper. This kind of service business has pretty low startup costs, especially if you're working from home. The minimum startup costs for a bookkeeping business: $62.
Brand Ambassador: Representing a brand on your social platforms can be profitable, and you don't need to have a huge following. As a general rule of thumb, post rates range from $10, posted by nano influencers to $10k and more, posted by mega influencers.
Brand Photographer: Every business needs to showcase their brand with images that attract their potential clients. All you need to get started is a professional camera that ranges from $800-$8,000.
Business Plan Consultant: Help businesses create a roadmap to achieve their goals. Freelance startup consultants charge rates that can range from $50 to $150 an hour.
Career Coach: If you have extensive experience and knowledge of a specific industry, you might consider becoming a career coach. You can charge clients for insights into your industry that only years of being in it can provide, and help those you coach get ahead of the game. Career coaches often charge anywhere from $50 to $250 per hour.
Carpet Installation Service: Getting a carpet installed is a hassle, which is why most people leave it to professionals. On average, you can charge between $700 to $2,000 to redo an area up to 200 square feet. As a general rule of thumb, including both labor and materials, the average cost to install carpet ranges from $3.50 to $11 per square foot.
Catering Services: Every event needs food. Taking this complex task off of the event planner's hands ensures every guests' preferences and dietary restrictions will be met. Be prepared to budget $10,000 to $50,000 in startup costs for your catering company. Once you get the ball rolling, you can charge as low as $20 per person or as high as $200 per person at events you're catering for.
Certified Professional Accountant: Provide overarching financial advice and tax guidance to clients. Start-up costs can range from $2,500 to $25,000 depending on whether you want to provide virtual services or rent an office space.
Children's Party Planner: Often parents are way too busy or don't have the kind of creativity that's needed to plan and organize an event for kids. If your specialty is planning memorable events, children's party planning might be just for you. Startup costs are under $2,000 and can be operated part-time from home.
Chiropractor: Help alleviate chronic pain, fatigue, muscle aches and much more by resetting clients' bones, muscles, and joints to improve their body's physical function. To get started with this business you'll need to be licensed, which costs $10,000-$30,000 per year in tuition. Additionally, startup costs for a proper office could exceed $100,000 in the first year.
College Application Consultant: Everyone wants to do their best on their college application, however, the process can be daunting to say the least. Guiding college candidates through the application process can be a profitable service business idea that can make you between $54,819 and $91,194 annually. All you need is experience in the field to get started.
Content Marketing Strategist: Create content to attract a company's target audience online. Typically, this service business makes between $40,199 and $50,189 and doesn't require upfront startup costs.
Content Writer: Provide companies with written content that will attract their specific target audience to their business. On average, content writers make $58,918 per year.
Contract Drafting and Review Service: Draft the various sections of legal documents, including terms and clauses between parties. You can charge between $200 and $800 for a simple contract and $1,000 and $5,000 for a complex contract once you're a licensed attorney. However, it will cost you anywhere from $1,500 – $4,000 in startup fees and law school tuition costs $84,558 at public universities.
Cover Letter and Resume Writer: These two pieces of writing are crucial for anyone seeking a new job. Not only do these two pieces of writing need to present clients in the best light, but also must be optimized, which is why people often seek out professionals to do it. You can get started with this profitable service business idea without startup costs and charge clients between $100-$400.
Custom Baking: Everyone wants their birthday, wedding, or event to be unique. By offering custom baking services, you can tap into a significant customer base. People frequently spend $100+ on a custom cake.
Customer Service Phone Operator: Customer service is at the heart of building customer loyalty, and there's no shortage of companies that need customer service representatives. Industry standard rates for these services are between $25 to $65 per hour.
Data Analysis: Companies need to understand key insights to be able to make smarter business decisions. By providing this service, you can make between $20–$50 per hr.
Data Management Consultant: Develop data-driven action plans for companies to optimize their data systems and use of technology while charging between $100 to $350 per hour.
Dating Profile Editor: Everyone wants to find love, but marketing yourself on a personal level can be awkward. As a dating profile editor, you can help optimize clients' dating profiles and improve their chances of finding a match while charging between $50-$400.
Debt Collection Service: Collect debts that are overdue. You can charge 25%–50% of the total amount of debt collected.
Diaper Delivery: Parents are often very busy and need as much help as possible when it comes to taking care of babies. By offering diaper delivery services, you'll be able to tap into a growing niche market and make $50 to $80 per shipment.
Digital Marketing: Leverage technology to help companies promote their products and services. This service business is great because all you need to get started is experience, and you can start charging around $2500 to $12,000 per month.
Dog Walking: It's difficult for pet owners who work onsite to walk their dogs when they're at the office. By offering these services, you can make between $20 and $30 for a 30-minute walk.
Doula and Birthing Coach Services: Giving birth is scary and hard enough as it is. By offering birthing coach services, you can help put clients at ease and better prepare them for the big day. You can charge per hour or a flat fee for your services, but often clients expect to pay between $800 and $2,500.
Dry-Cleaning Pickup and Delivery: Some specific fabrics can only be dry-cleaned. By offering these services, you'll need to invest around $30,500 in startup costs (mostly for equipment). Once you're set, start charging from $1 to $3 per pound right off the bat, as well as include a minimum charge (usually around $20).
Ebook Ghostwriter: Get hired to write under someone else's name. An experienced ghostwriter can charge between $40,000 to $70,000 depending on the project's length, subject, and how technical the material is.
Editing and Proofreading Service: A final piece of writing should be clear and the style to be easy to read. This is what editing and proofreading services are for. Hourly editing and proofreading services can range from $10 to $100 per hour.
Elder Companion and Care Provider: Senior family members often need help, attention, and companionship in their old age. If care is your forte you might start with this service business idea. Rates are usually $26 per hour for in-home care.
Event Furniture and Equipment Rental: Sometimes when venues are rented for an event they come completely empty. To make the event feel more welcoming, planners may seek to hire furniture or equipment. Create packages with the most common pieces or price items individually. Startup costs for this service business range from about $13,000 to $50,000.
Event Videographer: Memories are an important part of any event. By offering your services as a videographer, you can help individuals and companies capture these crucial moments. On average, rates for this service are somewhere between $750 to $1,000.
Recruiting: Companies want to find talent that will stay and help grow their business. Usually, headhunters charge a percentage of the candidate's first-year salary (typically 20%-30%).
Family History Video Creation: Whether it's an interview of an older member of the family sharing their history or a kind of video collage of videos and photos, family memorabilia is important to many. Help families keep a record of their genealogy and history with your services. There are no startup costs and you can charge around $50-$60 per hour.
Financial Auditor: Ensure that a company's financial documents are correct and compliant with accounting criteria. You'll require a bachelor's degree in accounting or finance, which can cost as little as $8,730 per year and as high as $36,000. After that you can start offering financial auditing services and make between $68,564 and $84,218 annually.
Freelance Researcher: Whether it's for marketing, entertainment, governmental, or biotechnology, researchers collect and analyze data to solve problems for their clients or identify trends in the market. Rates are between $15-$30 per page.Freight Brokerage: Earn a commission from each load you broker between a shipper and a freight service provider. Once you've found your niche and clients in the industry, you can start earning commissions between 6 and 7 figures per deal.
Fundraising Event Coordinator: If you're a people person, this is an ideal service business idea for you. Schedule the logistics and venue of fundraising events, as well as inviting potential donors. On average, the hourly rate for service business ranges from $30 to $43.
GED Test Preparation: Help students get prepared for the four tests designed to measure their knowledge of school subjects. Most GED test tutors charge between $30 – $55 per hour on average.
Graffiti Removal: On occasion it may be an art form, but not everyone wants it on their walls. For removing graffiti, you can charge around $1 to $3.50 per square foot, in addition to a $50 to $200 minimum service charge.
Graphic Designer: Create designs combining texts and images to advertise a product or service in media. On average, graphic designers charge $65 to $150 per hour when they're experienced and $25 to $50 per hour when they're starting out.
Web designer: The design and layout of a website are the work of a web designer. The job can be to create a new website or update an existing one. The average freelance web designer may charge about $75 per hour, but web designers that are just starting out fall in the $27 to $60 per hour bracket.
"In an economy where farming and manufacturing as a proportion of total economic activity are in decline, and services are rapidly ascendant, the skills necessary for the workplace are being redefined," Citi CEO Michael Corbat stated in a recent television appearance.
How Do You Start a Service-Based Business?
Having a customer-first approach is at the heart of any service business. Once you've got this mindset, you can start planning the key elements of your business, such as the services you'll offer and your website. Here are 4 easy steps to kick start your service business idea:
Identify a profitable service business idea: Provide a service that solves customers' problems. To determine whether there is a market need for your service concept, you must perform your research and speak with people. To find out what your audience wants, poll family, acquaintances, or members of the community who suit the profile of your ideal client.
Set up your platform: Don't spread yourself too thin by trying to join every social media platform out there. Where does your audience hang out online? Focus on the top three that you know your audience will be able to easily find you on.
Create a business plan: According to a recent study, entrepreneurs who create a strategy are more likely to be successful than those who don't. By laying out a plan, not only will it be easier for you to achieve your goals, but also to approach organizations that can provide you with loans.
Put the plan into action: Once you have a plan, it's time to get started. If you're overwhelmed as to where to begin, creating a pricing plan is always a good place. Research what others in your industry are charging for similar services: are they charging hourly rates, for packages, or implementing value-based pricing?
Business Mentoring Organizations That Could Help
Sometimes all you need is a little assistance from those who have previously achieved success in your industry. The following list of free business mentorship groups might be useful while you work to launch your service business idea:
SCORE: The biggest volunteer network of seasoned business mentors in the country, SCORE, is devoted to assisting small businesses with their planning, execution, management, and expansion.
MicroMentor: The largest volunteer business mentoring initiative in the world
Meetup: This app brings people together to discuss a range of subjects. Locate organizations in your region that are devoted to entrepreneurship, or you may start by doing a search for "Business Mentoring Groups" or "Service business Mentoring."
Final Word
Starting a business that is best suited to your interests and talents can help you stay motivated and ultimately make you successful. Researching multiple service business ideas will set you on the right track because, you never know, sometimes there are ideas out there you didn't even know existed.