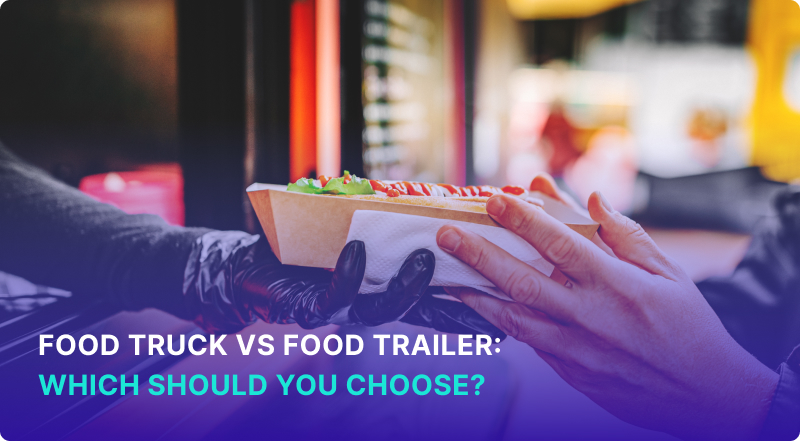 All content presented here and elsewhere is solely intended for informational purposes only. The reader is required to seek professional counsel before beginning any legal or financial endeavor.
From the convenience of a food truck to the portability of a food cart, there is no one-size-fits-all solution when it comes to starting a mobile food business. Whether you're looking to bring some delicious treats to the streets or just want to provide some unique catering options, there are a lot of factors to consider.
What's the Difference between Food Trucks, Food Trailers, and Food Carts?
Food trucks, carts, and trailers all have their positives. The option that works best for you simply depends on your game plan. Let's compare a few key features of each option.
Size
Between trucks, carts, and trailers, food trucks are usually the largest of the three, while food trailers are slightly smaller and food carts are the smallest. Which size option is right for you mostly depends on the price you're willing to pay (more on that in a second), and how much space you have to store the vehicle.
Space
Food trucks provide the largest amount of space, with enough room for a full kitchen, making it ideal for more complicated dishes. Food trailers, on the other hand, provide less space as they often don't have a full kitchen, and food carts provide the least amount of space, making it better for simpler dishes that require few ingredients.
Price
Food trucks are the most expensive option, followed by food trailers, and then food carts, which are the least expensive. Generally, brand-new food trucks can cost anywhere from $100,000 – $175,000, while food trailers usually range between $10,000 and $50,000, and food carts range from $3,000 to $5,000.
You'll want to think about depreciation as well as the upfront cost of each option. Food trucks are going to depreciate a lot faster because they're actual vehicles and vehicles start depreciating the minute you drive them off the lot. Trailers and carts are easily fixable and are being towed so they depreciate far slower than a food truck.
Mobility
When it comes to mobility, food trucks are the most mobile as they can be driven from one location to another relatively easily. Food trailers are slightly less mobile as they require a towing vehicle, while food carts are the least mobile as they require physical effort to move.
Which option works best for you depends on your comfort level with driving a large truck. Those who don't feel comfortable driving a large rig may prefer a smaller option like a food trailer. Even still, those who don't drive at all, such as those in cities, may prefer the ease of moving and storing a cart.
Professionalism
Food trucks are ideal for higher-end dishes, while food trailers and food carts are better for quick, casual dining. The type of food being served should be taken into consideration when selecting the vehicle as well. If your goal is to serve gourmet meals, you need a proper kitchen that can only come in a larger cooking space offered by a food truck.
Paperwork
Food trucks require the most paperwork as they must be registered with the Department of Motor Vehicles, and may require additional permits depending on the city. Food trailers and food carts are typically simpler, only requiring a permit from the city. However, it is important to research all local regulations before investing in a vehicle.
Menu
When serving food from a truck, cart, or trailer, it's not always the size of the menu that counts, but the creativity behind it. Food trucks tend to provide the most variety in terms of menu options, due to the larger kitchen space, while food trailers and food carts are typically limited to simpler dishes.
Purpose
Food trucks are used for a variety of purposes, from catering to special events to serving lunch, dinner, or late-night bites. Food trailers and food carts, on the other hand, are usually used for more casual dining.
The food truck business allows entrepreneurs to follow their dream of opening a traditional restaurant, but in a less expensive way.
Food Trucks
A food truck is simply a mobile kitchen. It is typically equipped with an oven, stove, deep fryer, griddle, refrigeration, and other equipment necessary to prepare and serve food. Food trucks have been popular in the United States since the 1970s when mobile vending was first legalized. Today, food trucks are a popular option for entrepreneurs who want to start a mobile food business without the high costs of a traditional restaurant.
Food trucks can be found in many different sizes and configurations, from large full-service trucks to smaller, more specialized vehicles. Many food trucks are designed to serve a specific type of cuisine, such as Mexican, Chinese, or Italian. Others offer a variety of different menu items or combine multiple types of cuisine.
Food trucks often offer a unique experience for customers. They are often parked in convenient locations, such as at festivals and street corners, and offer a variety of menu items at an affordable price.
Food Truck Pros
Easily ​​mobile. Food trucks can travel to different locations. This allows them to take advantage of peak times and increase their sales.
Low startup costs. Compared to traditional restaurants, food trucks require much lower start-up costs. They also require very little overhead costs, making them an attractive option for entrepreneurs.
Branding can be fairly simple. Food trucks have a unique look and feel that can be used to promote a brand. With their vibrant designs, food trucks can be used to stand out from the crowd and easily draw in customers.
Food Truck Cons
Limited kitchen capacity. Food trucks have a limited capacity for food storage and preparation. This means that they can only serve a limited number of customers at a time. No matter how fancy your appliances are, without the space, your customers may have to wait in long lines.
Weather dependent. Food trucks are vulnerable to the weather. Rain and extreme temperatures can prevent customers from wanting to wait outside for their food.
Maintenance costs can be substantial. Food trucks require regular maintenance and repairs due to their frequent use. This can be costly and time-consuming for owners.
Parking restrictions can affect business. Many cities have strict regulations on where food trucks can park. This can limit the places they can go and the customers they can serve.
No matter what option you choose, food trucks can provide a lucrative income.
Food Trailers
A food trailer is a mobile food business that is typically towed from one location to another. Unlike food trucks, food trailers are often stationary and are often parked in one place for an extended period.
Food trailers can range in size, from small basic trailers with limited kitchen space to larger, more elaborate trailers with multiple compartments and full kitchen amenities. Many food trailers are custom-built and customized to fit the proprietor's needs. For example, some food trailers may have a full kitchen setup with an oven, refrigerator, and other needed appliances.
Food trailers are typically cheaper to purchase than food trucks and can be an affordable option for entrepreneurs who want to start a mobile food business. They are also great for events, as they can be easily moved and set up in a short amount of time.
Food Trailer Pros
Low cost. Food trailers can be more cost-effective than food trucks, so if you're on a budget, a food trailer might be the best choice for you.
Ample storage. Food trailers offer more storage space than food carts, making it easy to store food, supplies, and equipment, but without requiring as much upkeep as a full-fledged truck.
Somewhat mobile. If you have a car that can easily tow your trailer, you can take it to events and other locations easily.
Food Trailer Cons
Limited space. Food trailers are much smaller than traditional restaurants, which can make it difficult to accommodate large groups of customers or do a lot of food preparation. You have to tailor your food options to easily consumable food for customers on the go.
Complex regulations must be followed. Food trailer owners must adhere to stringent health and safety regulations in order to remain in compliance. This can be costly and time-consuming for those who are not familiar with the rules.
Food Carts
A food cart is usually set up temporarily in public places such as parks, sporting events, or festivals. Food carts often carry a variety of snacks and meals, from hot dogs, sandwiches, and ice cream to smoothies and juices.
The main advantage of a food cart is its portability. Food carts are much smaller than food trucks or trailers and they can be moved easily from one location to another. This makes them ideal for entrepreneurs who want to take their business to multiple locations. Additionally, food carts require much less investment than food trucks or trailers, making them a great option for those who are just starting out.
Food carts are also a great option for entrepreneurs who want to test out a product before investing in a more expensive food truck or trailer. With a food cart, you can experiment with menus, test out recipes, and see what works and what doesn't.
Food Cart Pros
Low overhead costs. Food carts typically require very little start-up capital and ongoing expenses, making them a great option for entrepreneurs who are just starting out.
Flexible mobility. Food carts can be moved to different locations, allowing you to take advantage of changing customer demand and access more people.
Opportunity to get creative. Food carts provide an opportunity for entrepreneurs to experiment with different menu items and recipes, as well as unique branding ideas.
Low risk. Since the initial investment for a food cart is relatively low, there is less risk involved compared to other types of businesses.
Food Cart Cons
Limited menu. Food carts typically only offer a limited selection of menu items, which can limit your ability to generate revenue.
Limited storage space. Food carts offer limited storage space, which limits the number of ingredients and other supplies you can keep on hand.
Limited seating. Food carts typically don't offer seating, so customers have to eat their food on the go. This can be a problem for customers who want to sit down and enjoy their meal.
"The nature of the food truck industry relies a lot on chance and luck; you roll the dice every time you go to an event without a guarantee of sales." – Stephanie Morgan, of the Seabirds Truck.
Food Truck, Food Trailer, or Food Cart: Which Should You Choose?
There are many factors to consider when deciding whether to start a food truck, food trailer, or food cart business. Each type of mobile food business has its own unique advantages and disadvantages, but one will be a better option for your dream business. When thinking about which one may be the right option, consider the following factors:
Financial Goals
If you're looking to invest in a mobile food business with the potential to make a high return, a food truck may be the best choice. Food trucks are typically more expensive than food trailers and food carts, but they also have more potential to make a profit due to their larger size and more extensive menu options.
Food Type
The type of food you plan to serve is an important factor to consider when choosing between a food truck, trailer, or cart. Food trucks are well-suited to most types of cuisine, but food trailers and carts are better suited to simpler foods like ice cream, fries, and beverages that don't require as much preparation. If you're looking for an in-between option, a trailer may be the more affordable, but usable option.
Business Budget
Your budget will be a major factor in determining which type of mobile food business is right for you. Food trucks are usually the most expensive option, while food carts and trailers are typically more affordable.
You also have to think about ongoing costs. Food trucks require licenses, truck maintenance, more appliances to manage, and fuel. Carts and trailers have fewer ongoing costs.
Preferred Location
When deciding between a food truck, trailer, or cart, consider where you plan to operate your business. Food trucks are more suited to serving in urban areas where parking and maneuvering are limited, while food trailers are better suited to larger areas with more space to set up. Food carts, on the other hand, are well-suited to busy street locations due to their smaller size.
Current Vehicle
If you already own a vehicle capable of towing a food trailer or cart, then you may want to consider going this route. Food trailers and carts are typically cheaper to purchase than food trucks, and you can save money by using your existing vehicle to haul the trailer or cart.
Where Can I Get Food Truck Financing?
Food truck loans are available from a variety of banks, credit unions, and online lenders. You might like to visit our list of the best food truck financing companies to learn more about available loan options. You should also consider the overall cost of the loan, including any fees associated with it. Additionally, you may want to consider alternative financing options such as crowdfunding or food truck business grants.

Final Word
When deciding between a food truck, food trailer, and food cart, it's important to consider your budget, the type of food you'll be serving, the size of the vehicle, and the local regulations in your area. Each type of vehicle has its own unique advantages and disadvantages, so it is important to choose the one that best fits your needs. Ultimately, the best option for you will depend on your individual circumstances, so be sure to do your research and make an informed decision.