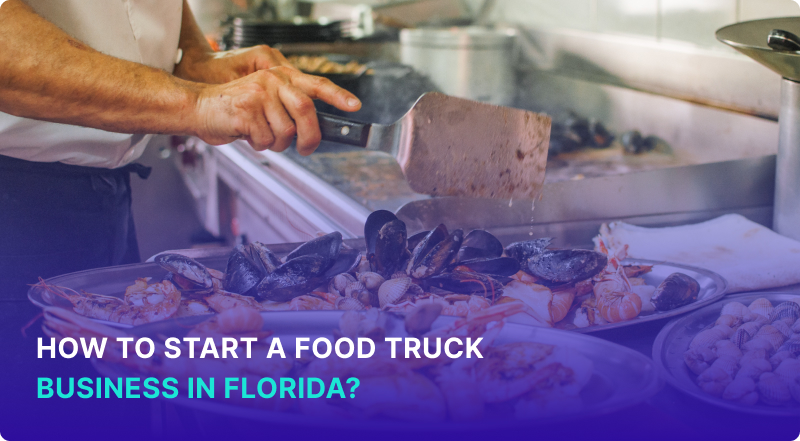 All content presented here and elsewhere is solely intended for informational purposes only. The reader is required to seek professional counsel before beginning any legal or financial endeavor.
In terms of business opportunities, Florida is often considered a business-friendly atmosphere. However, planning your food truck business is the key because without proper planning your chances of success will not be great, especially regarding all the permits and licenses you need.
Key Points:

You'll need to comply with rules at both a state and local level when operating your food truck.

As you navigate the process, approaching it with a positive attitude can make all the difference.

Build out your business with your customer's needs in mind. When your customers are happy, your food truck is off to a good start.
How to Start a Food Truck Business in Florida
Starting a food truck business in the Sunshine State is an exciting opportunity. But before you start serving your happy customers, there are several steps you'll need to take first. Below you'll find a step-by-step guide to opening a food truck business in Florida.
1. Conduct Market Research
When opening a food truck business, conducting market research can help you start moving in the right direction.
Research the food truck industry: Take a close look at the trends in the food industry. As you learn about the industry, look for ways that you can serve customers.
Check out competing food trucks: You likely aren't the first food truck in town. By taking the time to explore what the competition is offering, you can find ways to stand out.
2. Settle On a Niche
Although you might be able to provide a wide variety of food options, it's often better to settle on a specific food truck concept.
Choose a niche: When opening a food truck, select a niche concept through which you can provide an outstanding menu to customers. If you have too many types of food on the menu, it's more difficult to deliver a consistent brand experience.
Brainstorm name ideas: The name of your food truck should inform potential customers of what you are offering. If possible, make this name easy to remember.
3. Check Out Various Locations
Every business owner must do some research when choosing a location. Although food truck owners have the option to move their rig, it's best to scout out locations ahead of time.
Find the right locations: As a food truck owner, you might move between several locations. But it's smart to have some locations in mind before arriving. With the location nailed down, you can make sure to get any necessary permits for the area.
Be flexible: After your truck is open, you might decide to try several locations around town to find the most business. A flexible attitude can help you adapt on your journey to success.
4. Make a Plan
A business plan is a key document for all business owners, including food truck operators.
What is a business plan? A business plan includes market research, practical requirements, marketing strategies, and more.
Why build a business plan? The document gives you a place to build out your small business idea. As you move forward, it will act like a roadmap to your goals.
How to write a business plan for your food truck: Check out our full guide on drafting a business plan for your food truck business plans.
"Good customer service costs less than bad customer service." -Sally Gronow
5. Estimate the Costs
The costs of starting your food truck business will vary. But some food truck business owners spend between $50,000 to $250,000 to get started. Below you'll find some of the estimated costs involved:
Food truck: Of course, you'll need to obtain the truck itself. While you could get a used truck between $30,000 and $50,000, you might spend closer to $250,000 for a custom-built truck. Another option is to rent the truck, which involves lower upfront costs.
Kitchen equipment: Depending on what your truck has on board, you'll need to supplement it with specific kitchen equipment for your menu. In some cases, you might have to build out the kitchen from scratch, which can cost tens of thousands of dollars.
Insurance: You don't want to hit the road without the proper insurance. But covering your food truck insurance bills can be thousands of dollars a year.
Labor: Will you run the food truck by yourself? If not, you'll need to hire staff, which comes at a cost.
6. Register with the State
Before you can register your business with the state, you'll need to determine what kind of business structure is best for your goals. After that decision, you can move forward with registration.
Choose a business structure: Different business structures offer various levels of legal separation between your personal assets and business liabilities. Many food truck owners choose between a sole proprietorship and an LLC.
Register with the Division of Corporations: When you know which business structure you want to set up, you can file the appropriate forms through SunBiz.org.
7. Get an EIN
An Employer Identification Number (EIN) is issued by the IRS to your business for tax purposes.
Why get an EIN? This nine-digit number is necessary when you hire employees or file your taxes.
How to get an EIN: It's easy to get an EIN by submitting an application to the IRS.
8. Get Financing
Although a food truck operation might be more affordable than a brick and mortar restaurant, you'll likely still face extensive startup costs. If you don't have the cash on hand, then you'll need to obtain outside funding.
Food truck loans from online lenders: Many food truck owners can fund their startup costs through an online lender. As you explore this option, only borrow what your business can reasonably afford to repay. Explore some of the best food truck loans here.
SBA loans: Loans available through Small Business Administration partners offer an opportunity to get the funding you need. It's possible you'll find lower interest rates through these lenders.
Find an investor: Don't want to repay a loan? Considering finding an investor to put their capital into the business. Although they'll get a share of the profits, it can help you avoid loan payments. Plus, some experienced investors can offer helpful business advice.

9. Invest In a Food Truck
When you have the financing lined up, it's time to invest in a food truck.
Food truck costs: You might spend between $30,000 and $50,000 for a used truck or closer to $250,000 for a custom-built truck. It's critical to shop around for the best option.
Buy or rent? Buying a food truck gives you more control over the layout and features, but it's very expensive. It's possible to rent a food truck with less capital upfront. Although renting is more affordable, you have less control. Plus, you might have to find a new truck when your lease is up.
Profit is not the legitimate purpose of business. The legitimate purpose of business is to provide a product or service that people need and do it so well that it's profitable. ― James Rouse
10. Purchase Supplies and Equipment
You'll need to outfit your food truck with the necessary supplies and equipment. Of course, your exact purchases will vary based on the type of food truck business you start. But below you'll find a general list to keep in mind:
Ovens
Gas range
Flat range
Induction
Microwaves
Freezers
Refrigerators
Cutting board
Pots and pans
Knives
Blenders
Shelving
Safety equipment
Sinks
Handwashing station
Point of sale system
Paperware for serving
First aid kit
Cleaning supplies
It will take some time and effort to track down all of the supplies you need. But you can't start serving customers until you have all the equipment you need to deliver a high-quality meal.
11. Acquire the Necessary Insurance
Insurance is a necessary cost when running a business. Although your exact insurance needs will vary, here are some basic policy types you might want to carry.
Vehicle insurance: The truck itself is a roadworthy vehicle that must be insured. If you crash, this will help you get back on the road.
General liability insurance: Life is unpredictable. This type of insurance will help cover the legal expenses and damages if someone sues your business.
Workers' compensation insurance: Workers' comp helps to pay for an employee's medical expenses if they are hurt in your food truck.
12. Obtain the Required Permits
The state of Florida requires food truck operators to obtain several permits. Below you'll find a list of the required permits.
Mobile food establishment permit: The Florida Department of Agriculture and Consumer Services administers this permit. Here's where to submit an application.
Food manager certification: The Florida Department of Health requires someone with this certification to be in the food truck while selling to customers. You must take a class to get this certification.
Alcohol permits: In general, food trucks in Florida cannot sell alcohol due to unavailable seating. However, some cities and counties offer special alcohol permits for their locations or specific events.
13. Undergo a Food Truck Inspection
Before serving your first customer, you'll need to complete a food truck inspection.
Inspection procedure: You'll work with the Florida Department of Agriculture and Consumer Services to set up an inspection.
Why is an inspection required? The state wants to make sure that your food truck meets all of the safety requirements before you start feeding Floridians.
14. Market Your Food Truck
When you open a food truck, you need to spread the word to potential customers. Without customers, your business can't bring in revenue. Below you'll find some marketing strategies to try.
Build a social media presence: A footprint on popular social media channels can get your business in front of potential customers.
Run a promotion: When getting started, consider running a deal to get new customers in the door.
Hit a food truck park: Many foodies frequent designated food truck parks. Consider setting up shop there for the day.
Here is a simple but powerful rule: always give people more than what they expect to get. – Nelson Boswell
15. Open Your Food Truck for Business
After working through all of these steps, it's finally time to open your food truck for business. Hopefully, you'll have a long line of customers ready to try your delicious food.
Business Mentoring Organizations That Could Help
Getting a food truck business off the ground is hard work. If you need a helping hand, reach out to these business organizations.
Small Business Administration: The SBA has office locations throughout Florida to help business owners. You'll find resources available to move the needle on your startup.
Women's Business Center: WBCs are designed to help women start or grow their small businesses. Many offer classes and support for your startup.
Local Chamber of Commerce: The Chamber of Commerce in your area may have some resources available to get your business up and running.
Final Word
As you learn how to start a food truck business in Florida, don't overthink the process. Although there are many steps involved, it's entirely possible to work through these steps in a matter of weeks. Don't let your fear of the unknown stand in the way of getting started.