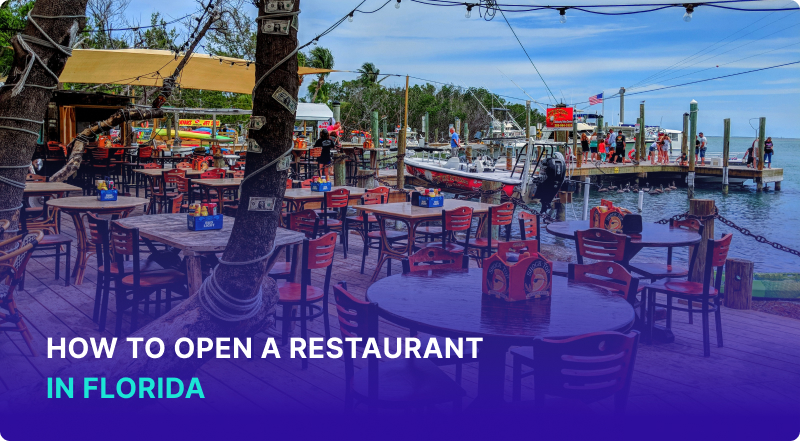 All content presented here and elsewhere is solely intended for informational purposes only. The reader is required to seek professional counsel before beginning any legal or financial endeavor.
The Sunshine State has a business-friendly reputation. As a potential restaurant owner, the process of opening a new establishment is lengthy. But Floridian restaurateurs can create a smoother path through thoughtful planning strategies.
Key Points:

Florida is relatively

friendly to business owners

. But there are still many steps involved in opening a restaurant.
Be prepared to tackle unavoidable paperwork when

starting your restaurant

.

As you build your business, keep your future customers in mind.
Want a roadmap to starting any business in Florida? Explore this full guide

.
1. Determine How Much It Costs to Open a Restaurant in Florida
Opening a restaurant is a capital-intensive process. According to a recent Restaurant Owner survey, average startup costs for a restaurant range from $175,500 to $750,000. The specifics of your restaurant venture will determine your exact costs. Here are some expenses to keep in mind:
Permits, licenses, and paperwork: You'll need to obtain licenses and permits. Plus, you must submit plenty of paperwork. Many of these actions require paying a fee to the state.
Commercial space: You cannot serve customers without a commercial space. While buying a space is an option, leasing is often more affordable.
Furniture: Guests need a comfortable place to sit while enjoying their meal. Shopping used can keep furniture costs lower.
Kitchen equipment: It's impossible to run a restaurant without the necessary cooking equipment.
2. Create a Business Plan for Your Florida Restaurant
A business plan serves as a roadmap to your future success.
Why make a business plan? The process of making a business plan allows you to think through potential pitfalls in advance.
Build a comprehensive business plan: Use our full guide to craft a successful business plan.
3. Set Up Your Business Entity
A business entity gives you the ability to separate business cash flow from your personal costs. Plus, choosing to create a limited liability corporation (LLC) offers additional protection for your personal assets.
Register Your Business with the Departments of State
After determining which business structure is right for you, it's time to register your business with the state of Florida.
Florida Department of State's Division of Corporations: If creating an LLC, you'll need to file Articles of Incorporation through this website.
Annual requirements: After creating your business, you'll need to file an Annual Report with the state each year.
Apply for an Employer Identification Number
An Employer Identification Number (EIN) is necessary to hire employees and is also used for tax purposes.
Apply with the IRS: The IRS issues EINs to businesses that apply. Be prepared to provide details about your business structure.
Understand How Florida Taxes Restaurants
Taxes are an unavoidable part of doing business. Here's a look at some of the tax details to be aware of:
Sales tax: All businesses in Florida must collect and remit sales tax to the state.
Reemployment tax: When you have employees, you must pay reemployment taxes on their income each year. This tax funds the unemployment system.
Income tax: The state of Florida doesn't require income taxes from its residents. But the federal government collects income tax. Keep this in mind before spending any profits.
Register with the Florida Department of Revenue
After understanding your tax obligations, it's time to register with the Department of Revenue.
Sales tax registration: You must register with the Florida Department of Revenue in order to collect and remit sales taxes.
4. Develop Branding for Your Florida Restaurant
Opening a restaurant involves more than serving delicious food. It's also smart to develop a brand that resonates with customers.
Choose a style: Consider what style of restaurant you want to create. Are you looking to create a casual experience or a formal night out?
Select color schemes: A thoughtful color choice can go a long way when developing a brand that suits your goals.
"Customers don't expect you to be perfect. They do expect you to fix things when they go wrong." – Donald Porter
5. Choose Your Preferred Style of Cuisine
When guests enter your restaurant, you want to deliver an outstanding cuisine experience.
Formality: Will guests treat your place as a formal night on the town or a causal spot for regular meals?
Choose foods that complement each other: The menu is a key feature of your brand. Consider choosing menu elements that create a cohesive dining experience.
6. Create Menu Items for Your Florida Restaurant
With a cuisine and brand in mind, it's time to nail down your menu.
Keep the menu simple: Include menu items that you know will deliver a plate of satisfaction to your guests.
Don't go overboard: While you want to provide variety, you don't want to get too far out of your wheelhouse.
Be open to changes: You can change the menu at any time. Consider customer feedback when making adjustments to the menu.
7. Get Financing for Your Florida Restaurant
The costs of getting a restaurant business off the ground are often extensive. If you aren't funding this venture with savings, you'll need to obtain financing.
Grants: Free money is always best. You don't have to repay restaurant grants. But this fact makes grants highly competitive.
Investors: The right investor can bring both capital and experience to your restaurant. However, you'll often trade equity for money.
Online lenders: When taking a loan, you won't have to give up equity. But the loan payments can be a drag for any new business. Explore your best online loan options for restaurants here.

8. Select the Best Location for Your Florida Restaurant
A bad location can doom your restaurant before you even open the doors.
Explore the area: Look for areas that draw in plenty of diners.
Find successful restaurants: Long-standing restaurants in an area often indicate a good location.
Don't pay too much: Strike a balance between location and price. A stellar location with a major monthly payment might do more harm than good for your business.
9. Buy or Lease Your Restaurant Space
When choosing a location, you must decide between buying and renting your restaurant space.
Buying: When you buy a location, you'll have more control over the interior aesthetic. But the cost of buying a commercial space is often very high.
Leasing: While you have less control over the space in a lease, rent payments might be more affordable than a mortgage.
Value of the commercial space: If buying a property, you'll get the benefits of appreciation over time. If leasing, you might face rent hikes and miss the chance to build equity in a property.
10. Remodel the Space to Meet Your Needs
After landing on a property, it's time to remodel the space.
Find a good contractor: When remodeling a good contractor can make or break your experience. Try to nail down timelines before the project gets started.
Keep your customers in mind: As you make changes to the space, consider the needs of your guests.
Be clear about the changes: If leasing a space, be very clear about the changes with your landlord.
11. Buy Equipment for Your Florida Restaurant
Restaurants often need an extensive amount of equipment to get started. Every new restaurant needs different equipment. But below is a shopping list to help you get started.
Paperware for serving
Small-space ventilation
Shelving
Flat range
Induction
Microwaves
Freezers
Knives
Cutting board
Ovens
Smoker
Pots and pans
Blenders
Gas range
Point of sale system
If you need help funding these purchases, a restaurant equipment loan might be the right choice.
"If you have a good experience in a restaurant, you tell 2 people. If you have a bad experience, you tell 10 people." – Anthony Bourdain.
12. Get the Necessary Restaurant Insurance Coverage
Insurance coverage is a necessary part of opening a restaurant. Here are some of the policies you might purchase:
General liability insurance: If something goes wrong and results in an injury, this insurance should cover the costs.
Property insurance: If you purchase commercial space, you'll need to pay for property insurance. If leasing, you can skip property insurance.
Auto liability insurance: If your restaurant uses a commercial vehicle to deliver food, you must get auto liability insurance.
Worker's compensation: When an employee gets hurt at work, worker's compensation policies help you cover their expenses.
Business interruption insurance: Things happen. If your business is unexpectedly closed, this insurance can help you get through the gap.
13. Obtain the Required Licenses, Permits, and Certifications
Before you can serve customers, you must get the necessary paperwork done.
Permanent food service license: You must apply for this license through the Division of Hotels and Restaurants.
Alcohol license: If you plan to serve alcohol, you must apply for the appropriate license. You have the option for beer and wine, liquor, or both.
Food establishment permit: You must obtain this permit from the Division of Food Safety.
Food sanitation certificate: The Department of Health issues these certificates to compliant restaurants.
14. Ensure Your Florida Restaurant is ADA Compliant
The Americans with Disabilities Act (ADA) requires restaurants to accommodate people with disabilities. Below are some ADA compliance rules:
Restrooms: Restrooms must have plenty of space for a wheelchair to maneuver.
Accessibility: The parking lot and entrances must be accessible to anyone in a wheelchair.
15. Build a Solid Team of Restaurant Employees
Employees will interact with your customers. With that, it's essential to find good employees to create a positive experience for your customers.
Attract the right workers: If you want to attract great workers, provide an excellent workplace. As a business owner, you can provide attractive wages and benefits that employees care about.
Train your employees: Before setting your new employees loose, train them on your process.
16. Pass the Florida Restaurant Health Inspection
Before you can serve food, you must pass the Florida Restaurant Health Inspection.
Purpose: Health inspections protect the public from unsanitary food.
Be prepared: Create a sanitary food preparation experience that meets all of the rules for the inspection.
17. Promote Your Florida Restaurant
Proper promotion and marketing can help you avoid the dreaded sound of crickets when you finally open your doors.
Build a following on social media: If you have a large social media following, you can get the word out to thousands of potential customers.
Offer a discount: As you get the ball rolling, consider offering a discount to new guests.
"It all comes back to the basics. Serve customers the best-tasting food at a good value in a clean, comfortable restaurant, and they'll keep coming back." – Dave Thomas
What Are the Legal Requirements to Open a Restaurant in Florida?
When you open a restaurant in Florida, you must meet various legal requirements.
Obtain all necessary permits and licenses: You must apply and obtain a collection of permits and licenses to move forward with the opening.
Zoning: Most cities have specific zoning laws you must adhere to.
Inspection: You must pass an inspection before you can serve your first guest.
Business Mentoring Organizations That Could Help
New business owners are likely to run into questions and obstacles along the way. If you need a helping hand, consider working with the following organizations.
Local Chamber of Commerce: The local Chamber of Commerce is often aware of any opportunities for business owners in the community. Plus, some provide mentoring services to help you get started.
Small Business Administration: The SBA offers a wide range of resources to Floridian business owners.
Final Word
Opening a new restaurant in the Sunshine State is definitely hard work. But the potential rewards of a successful restaurant venture are worthwhile. Start the process of opening your own restaurant today.